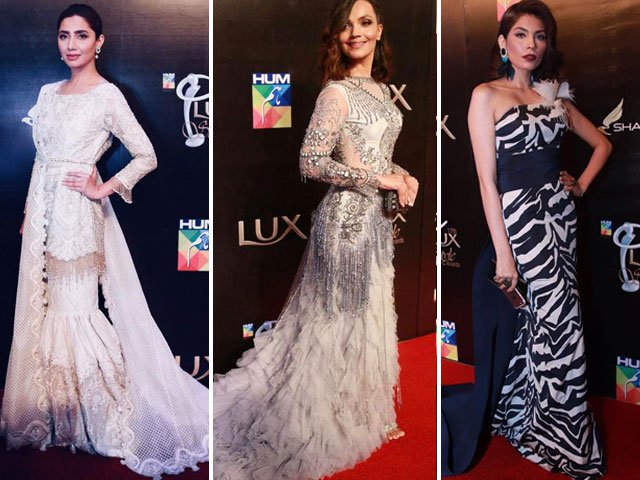 ---
KARACHI: In all its glitz and glamour, Lux Style Awards 2018 was a night to remember. Offering an amalgam of the familiar and the new, the starry night witnessed celebrities dressed to the nines, donning striking trends that are bound to remain in the fashion memory.

Here's a lowdown of our three favourite picks from the night.

Mahira Khan




The Raees beauty knocked it out of the park in an all-white Faraz Manan ensemble. While local celebrities are often spotted sporting modern silhouettes including voluminous gowns and revealing cuts, the starlet hit all the right notes as she stepped out in traditional attire.

The outfit featured intricate embroidery with dangling pearls adding to the finishing touches. A belted net dupatta comprising scallops and two-legged wide pants completed her look. But, Mahira was not only a visual treat. Like a boss, the diva bagged one of the biggest awards of the year – Best Actress for Verna.

Amna Babar




Seriously sexy: we had a feeling she would turn heads at the fashion extravaganza and the Model of the Year did not disappoint. Engraving a mark in a zebra printed figure-hugging dress with feather embellishments, the strapless Élan number highlighted her collar bones – and we were totally sold! She opted to show off her killer bod further by adding a trail that cinched to the waist. Turquoise and silver earrings added just the right pop of colour to her monochrome look.

Aamina Sheikh




Stepping out in style, Mohib Mirza's better half was dressed in an ensemble perfect for an award ceremony. The actor opted for a silver gown that perfectly complemented her bronze skin. We feel her look definitely made a statement – only because the style icon went all avant-garde in the Sana Safinaz ensemble.

It was neither to loose nor too tight – it literally fit her like a glove! Exuding femininity and radiance, the starlet's outfit was one to stop and stare at on the red carpet.

Have something to add to the story? Share it in the comments below.