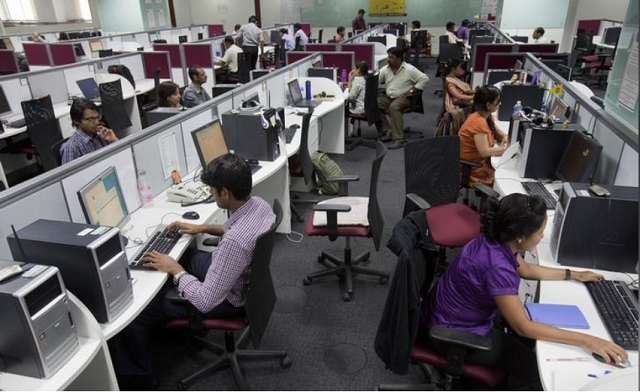 ---
India's software services exports will see revenue growth of 7-9 per cent in constant currency terms in the fiscal year to March 2019, a leading lobby group forecast on Tuesday, as the industry continues to recover from what has been a tough year.

The forecast, which was put out at the annual summit of the National Association of Software and Services Companies (NASSCOM), is in line with the 7.8 per cent revenue growth it expects in the six months to the end of March 2018.

The country's $154-billion information technology sector has been buffeted by a broader slowdown in technology spending, while uncertainty looms over work visa rules in the United States, the biggest market for Indian software services firms.

VW looks at Apple for electric-car design guidance

US President Donald Trump has, however, so far not made any drastic changes to the H-1B visa program, widely used by Indian companies to bring engineers and developers to the US.

Executives at the summit in the southern city of Hyderabad, fast rising as a competitor to traditional IT hub Bengaluru, were optimistic the sector could weather the current uncertainty by moving from low-margin businesses such as server maintenance to more sophisticated work such as artificial intelligence (AI).

"The current outlook is one of cautious optimism," said NASSCOM President R. Chandrashekhar in a statement.

"There is still some turbulence and it is not clear how some of the known uncertainties will play out. However, FY 2019 is likely to be a better year, based on our current assessment."

Major companies such as Infosys and Wipro have posted improved earnings in the January-March quarter and IT executives in Hyderabad also expressed optimism about a continued recovery as the sector diversifies into more lucrative digital segments such as cloud computing and big data.

'Hey Mercedes' - Daimler takes on Silicon Valley with hi-tech A-Class

"This is an opportunity for people like us who service enterprises to step up and say: I can help you in the front, I can help you with the business model, I can help you with your operational profile," said Ananth Krishnan, chief technology officer at top-ranked Tata Consultancy Services.

Company officials were particularly excited about artificial intelligence. Krishnan said TCS was already embedding AI in its offerings.

The IT sector added 100,000 new jobs in the current fiscal and expects a "similar trend" in hiring to continue in the year to March 2019, Chandrashekhar said, as the industry pivots to new offerings.

However, finding fresh talent to work on AI-driven solutions could be a key constraint.

"There is limited talent available in this space and to me, that's the No.1 challenge today, across the industry," said Vivek Agarwal, global head of enterprise verticals at Tech Mahindra.