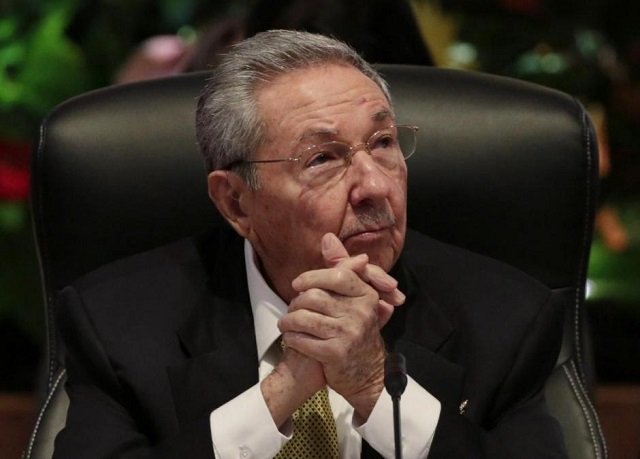 ---
HAVANA, CUBA: Cuban President Raul Castro Tuesday received a bipartisan delegation of US lawmakers Tuesday, who are visiting the island with the alleged "acoustic attacks" against US diplomats on their agenda.

"During the meeting they discussed matters of interest to both countries," the Cuban government said in a statement.

The delegation, led by Democratic Senator Patrick Leahy of Vermont, arrived in Cuba Sunday to address various issues including the mysterious supposed attacks in Havana.

Raul Castro to step down as Cuba's president in April 2018

The issue has hit US-Cuba relations, with Washington withdrawing half of its diplomats from Cuba and expelling 15 officials from the Cuban embassy in the US capital.

The Cuban foreign ministry's US director, Carlos Fernandez de Cossio, met with the congressmen Monday assuring them that "no evidence that attacks occurred against US diplomats in Cuba exists," according to his deputy Johana Tablada.

Accompanying Leahy on the visit are senators Ron Wyden of Oregon and Michigan's Gary Peters, along with representatives Kathy Castor of Florida, Jim McGovern of Massachusetts and Susan Davis of California.

Leahy has been one of the most active politicians inside the Capitol in advocating the improvement of US-Cuba relations, which defrosted somewhat in 2014 under Barack Obama after half a century of tension. The US delegation will end its stay in Cuba on Wednesday with a press conference.

'Elusive' brain injuries seen in study of US diplomats in Cuba

At least 24 Americans, a mix of US embassy personnel and their dependents - suffered headaches, hearing loss, disorientation and some loss of cognitive ability between November 2016 and August 2017.

Some recovered from the most acute symptoms, but the severity, range and recovery time was mixed and it's not yet clear whether any have suffered permanent injury.

US press reports suggest that FBI agents dispatched to Havana have been unable to find any evidence to support a theory that the staff were attacked with an acoustic or sonic weapon.