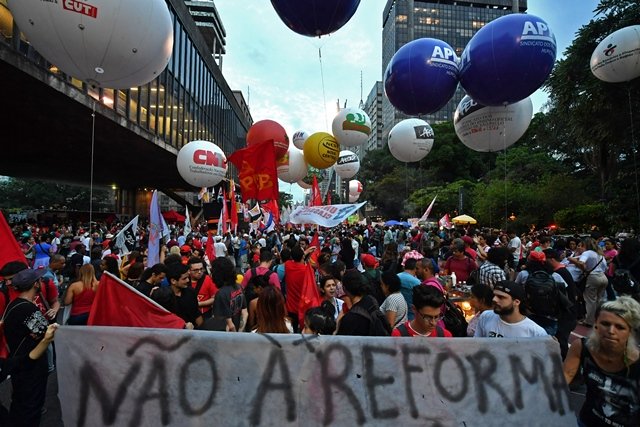 ---
BRASILIA: Brazil's center-right government has conceded defeat in its attempts to push through controversial cuts to the pension system, which had long been presented as a keystone of austerity reforms.

President Michel Temer had been hoping to push through the downsizing of the generous pension system in the coming days.

However, the government has failed to win enough support in Congress, where lawmakers will have to face voters in an October general election.

The killer blow was applied last week by Temer himself when he signed a decree putting the army in charge of security in crime-plagued Rio de Janeiro.

CPEC to attract more foreign investors: Brazil envoy

That made the pension vote impossible because changing the system would require a constitutional amendment and such amendments are not legally allowed while a military intervention is underway.

Government secretary Carlos Marun said on Monday that the reforms were now dead in the water.

"The security problem (in Rio state) became so explosive that we had to take exceptional measures. Suspending passage of the pension reforms was a collateral effect," he said.

But analysts say that the timing of the military intervention indicates Temer was looking for a way to save face and avoid embarrassing defeat in Congress.

Since coming to power in 2016 after the impeachment of leftist president Dilma Rousseff, Temer has portrayed himself as a reformer determined to bring rigor to Brazil's sickly economy.

However, the idea of cutting benefits and delaying early retirement was deeply unpopular with voters, although welcomed by financial markets. Temer's own credibility has also taken severe blows from allegations of corruption.

That made getting the needed 308 votes out of 513 in the Chamber of Deputies impossible. Marun said that political conditions for such a measure will now only "come with the election in October."

"This was a very unpopular proposal and was sure to have been defeated," said Andre Cesar, analyst for the Hold consultancy in Brasilia.

Brazil will not shut border to Venezuelans, seeks to organize flow

"So instead of putting it to a vote, it was more intelligent for the government to change the agenda and (intervention) was the solution."

Samar Maziad, a senior analyst at Moody's Investor Services, said the markets will be disappointed, because the plan "was critical for the nation's credit prospects."

Not enacting the austerity plan is "a credit negative development that will severely restrict the authorities' ability to comply with the government spending ceiling in the coming years."

In the interim, the government is announcing a package of 15 measures that it says will help boost the slowly improving economy, although analysts say much on that list has already been sent to Congress.

How Brazil can help Pakistan

Leftist former president Luiz Inacio Lula da Silva currently leads in opinion polls for the presidential race in October.

But he has been sentenced to 12 years in prison for corruption and is making a last-ditch attempt to stay out of jail.
COMMENTS
Comments are moderated and generally will be posted if they are on-topic and not abusive.
For more information, please see our Comments FAQ