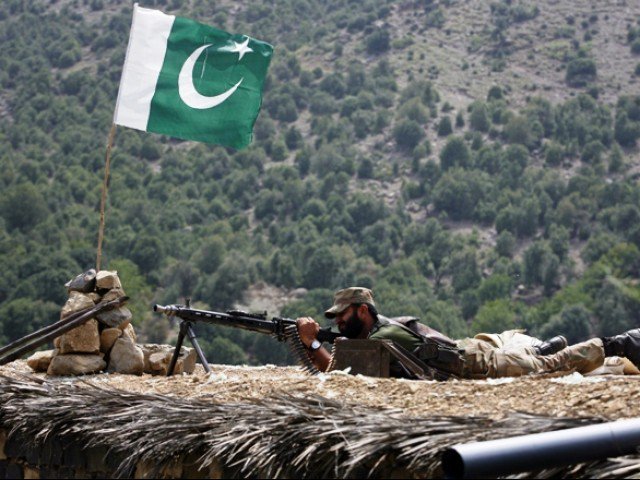 ---
ISLAMABAD: Moscow has offered 'deep appreciation' to Islamabad for its efforts and sacrifices to combat terrorism in a significant statement that has come amid renewed US pressure on Islamabad to do more.

The praise came on Tuesday from Russian Foreign Minister Sergey Lavrov after his meeting in Moscow with visiting high-powered Pakistani delegation led by Foreign Minister Khawaja Asif.

Asif, who is on a three-day trip to Russia, is accompanied by Special Secretary Tasneem Aslam, Ambassador of Pakistan to Russia Qazi M Khalilullah and Additional Secretary Zaheer Janjua.

Placing Pakistan on terror financing watch list a bid to destabilise economy: Iqbal

The Russian foreign minister was assisted in the talks by Special Representative of the Russian President on Afghanistan Zamir Kabulov and Russian Ministry of Foreign Affairs spokesperson Maria Zakharova.

The visit came against the backdrop of increased US pressure on Pakistan to take decisive action against the alleged hideouts of Afghan Taliban and Haqqani network.

Washington has not only suspended the entire security assistance to Pakistan but also moved a motion at the Financial Action Task Force (FATF) to place Pakistan on list of countries that finance terrorism.

According to sources in Foreign Office, the purpose of Asif's visit is to garner Russian support at this crucial juncture. The statement released by the Foreign Office indicates that he has apparently managed to win some support.

The Russian foreign minister not only appreciated Pakistan's anti-terror fight but also offered his country's support. In return, Asif underscored that Pakistan is, in principle, opposes to sanctions against any country, including Russia, especially when they are politically motivated.

Asif gave the statement in the backdrop of ongoing US probe into the alleged role of Russian secret agencies in influencing the 2016 American Presidential elections. The two sides also discussed the prevailing situation in Afghanistan and its implications for the region.

They reiterated that there was no military solution to the Afghan conflict and a negotiated settlement through an Afghan-led and Afghan-owned peace and reconciliation process was the only viable option for lasting peace in Afghanistan. They agreed to closely coordinate in all Afghanistan-related processes for a regional solution of the Afghan conflict.

"There was also unanimity of views that unchecked proliferation of Da'ish in Afghanistan, particularly along borders of neighbouring countries, was a threat to peace in the entire region," said the foreign office statement.

Foreign Minister Khawaja Asif briefed his Russian counterpart on Pakistan's vision of a peaceful neighborhood. He underlined that Pakistan believed in resolution of disputes through peaceful dialogue.

US bid to put Pakistan on global terror watch-list fails

They held in-depth discussion on the entire spectrum of bilateral relations, important regional and international issues, situation in the Middle East and cooperation between the two countries in the UN and Shanghai Cooperation Organisation (SCO).

The two side laid emphasis on importance of strengthening bilateral engagement and diversifying cooperation in various fields.

This is evident by the continued high-level interactions between the two countries, including meetings between the Prime Minister of Pakistan and the President of the Russian Federation in Ufa in July 2015 and Astana in June 2017, and prime ministers of the two countries in Sochi last November.

The two foreign ministers expressed satisfaction at the increasing bilateral cooperation and agreed to further intensify efforts to deepen cooperation in all areas of mutual interest, including trade, energy, defence, education, science and technology and people to people contacts.

The two sides agreed to further build on enhancing coordination at multilateral forums. They underscored that Pakistan's membership of the SCO had provided additional opportunities for deepening cooperation between the two countries.

The two foreign ministers expressed desire to further expand bilateral trade and agreed to work together under the framework of the Intergovernmental Commission on Trade, Economic, Scientific, Technical and Cultural Cooperation.

Foreign Minister Lavrov put emphasis on cooperation in the field of energy, including realisation of the North-South gas pipeline project. Russian experts are ready to participate in modernisation of Pakistan's energy sector. The two sides agreed to continue to consult with each other on a regular basis.
COMMENTS (1)
Comments are moderated and generally will be posted if they are on-topic and not abusive.
For more information, please see our Comments FAQ