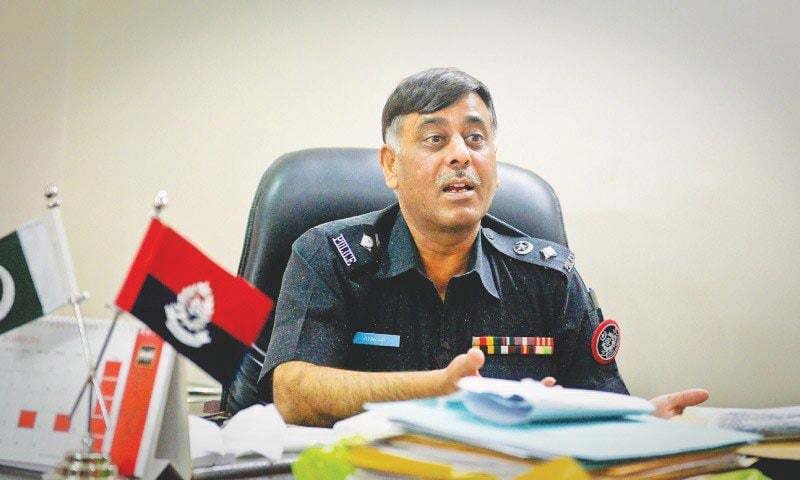 ---
KARACHI: The Sindh High Court (SHC), on Tuesday, directed the provincial chief secretary, inspector-general (IG) of police, Karachi additional IG and former Malir SSP Rao Anwar to submit their replies on a petition seeking an inquiry into killings of more than 250 suspected criminals in alleged encounters conducted by SSP Anwar since 1992.

A two-judge bench, headed by Justice Naimatullah Phulpoto, asked the provincial advocate-general (AG) to submit replies of the authorities concerned. The suspended SSP, who has yet to join investigations, was also told to file his reply by March 30.

A practising lawyer, Muzammil Mumtaz, had approached the court in January this year seeking inquiry into dozens of 'suspected' encounters after the killing of an aspiring model, Naseemullah Mehsood alias Naqeebullah, by SSP Anwar sparked nationwide protests by the civil society.

A police team led by SSP Anwar had reportedly killed Naqeebullah in a staged encounter, declaring him as a member of Tehreek-e-Taliban Pakistan. After an inquiry declared that Naqeebullah was killed extrajudicially, SSP Anwar was suspended.

SSP Malir Rao Anwar says he skipped court fearing Taliban attack

Naqeebullah's death sparked public outrage and protest demonstrations by several civil society groups and the Supreme Court took suo motu notice over the incident.

In his petition, Mumtaz said that from 1992 to January 15, 2018, SSP Anwar had killed more than 250 people in alleged encounters and robbed their families. The lawyer maintained that the officer had remained posted in District Malir for the past decade and no action was taken with regard to the tenure of his posting in the district.

The petitioner argued that it was astonishing that SSP Anwar had been suspended in the past on the allegations of staging fake encounters and disciplinary proceedings had also been initiated against him. However, every time he was suspended, he would get reinstated after a short span of time while no police officer was appointed on the vacant post in the intervening period.

Mumtaz claimed that Anwar as the Malir SSP, exceeded his power and violated the Article 4 of the Constitution, which guarantees the right of citizens to be dealth with in accordance with the law. The petitioner pleaded that no action had been taken against the officer for his supposed role in the killing of more than 250 people in fake police encounters.

SHC seeks reply from officials over Rao Anwar's fake encounters

The petitioner requested the court to direct the provincial government to constitute an inquiry board to probe into suspected extrajudicial killings of more than 250 people in encounters carried out by SSP Anwar. He further pleaded to the court to take action against him and his accompanying officials.

On the last hearing on January 22, the court had issued notices to the Sindh AG, IG and others, directing them to submit their replies. However, no comments were filed on behalf of the provincial authorities as well as SSP Anwar.

A government law officer requested the judges to grant them more time for submitting replies on behalf of the official respondents. Granting the request, the SHC directed the official respondents and former SSP Rao Anwar to submit their replies by March 30.
COMMENTS
Comments are moderated and generally will be posted if they are on-topic and not abusive.
For more information, please see our Comments FAQ