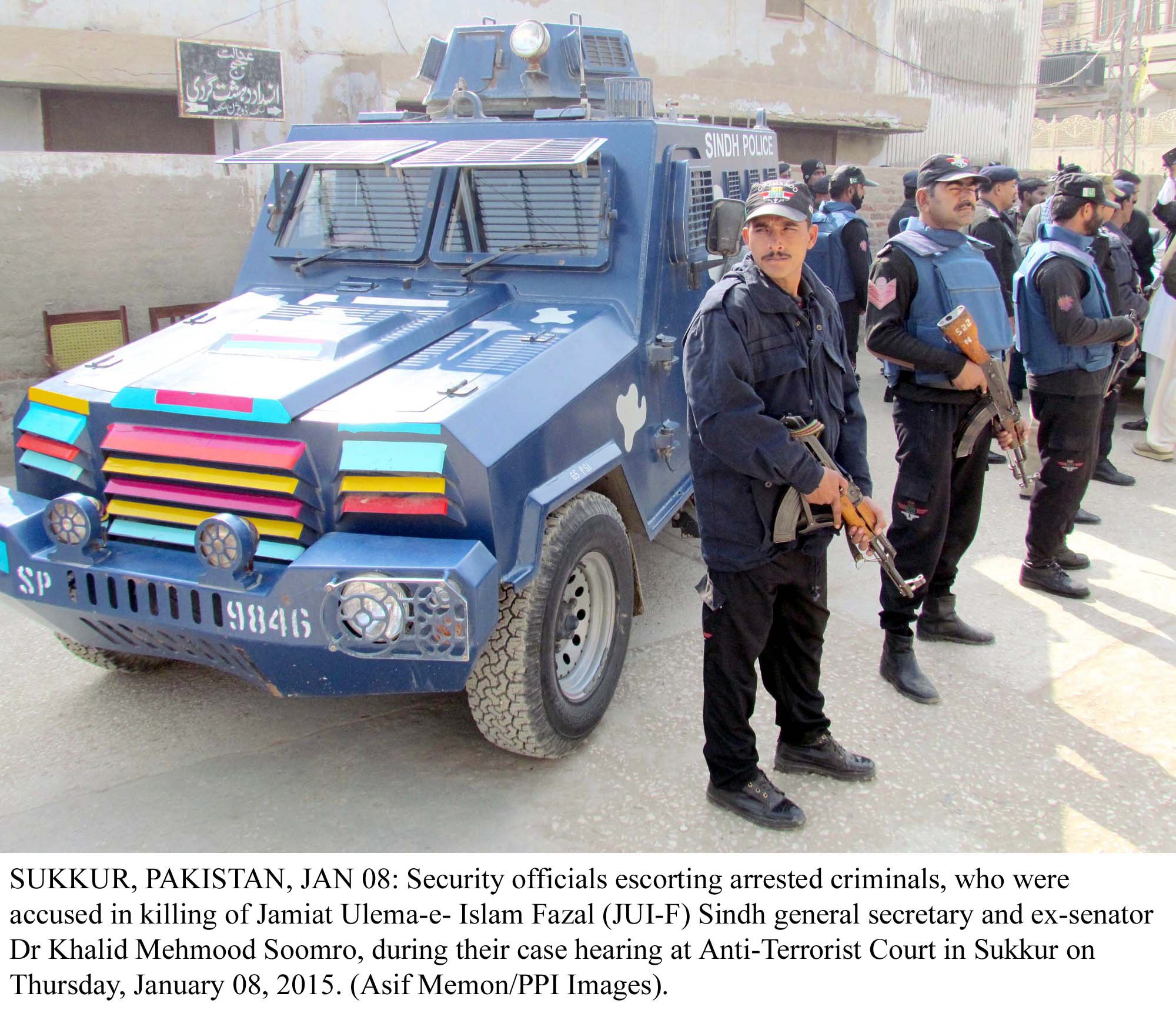 ---
KARACHI: In February 2017, four-year-old Iman Fatima was raped and murdered in Kasur, a city 70 kilometres southeast of Lahore.

The horrendous crime was pinned on Mudassar Ali, and the case met with speedy 'justice' – or so it seemed at the time.

A bullet put an end to his life and stamped the end of the case for Punjab police, which revelled in its success amid a plethora of child abuse and pornography cases that put Kasur, a city of 3.4 million people, in the limelight.

Only two years earlier, Kasur's child pornography scandal had emerged, tarnishing the image of the police as well as the government that sat an hour's drive away in the provincial capital – the stronghold of the ruling PML-N.

444 people killed in encounters under Rao Anwar, claims report

Details of the scandal suggested that the pornography ring had operated under the shadows for eight long years, capturing many children in its shackles. In 2015, multiple child abuse cases also made it to the headlines.

Critics came down hard on the government and the police. It was time for decisive action.

So when the district police officer (DPO) and station house officer (SHO) shot and killed Mudassar, the prime suspect in the rape and murder of a four-year-old, very few raised eyebrows.

He had it coming, they would say. He should have been hanged in public, they would argue.

Irrespective of how it happened, for now, the people celebrated that the street just became safer with the killing of one rapist and murderer.

Truth is stranger than fiction

At Mudassar's home, a family was distraught. Living in fear and despair. Its future was killed by a bullet.

Barely 12 months later, another child was raped and murdered in Kasur. Only this time, the case attracted much more attention.

With so many eyes watching, the police were forced to conduct a Sherlock Holmes-level sleuthing operation. CCTV footage, DNA samples and government intervention found a suspect. This time, there would be no doubt that Zainab's attacker would be caught.

Imran Ali, the suspect in the Zainab case, was arrested and subsequently confessed. A few days back, he was given four death sentences. DNA tests showed that he was responsible for nine such cases, including Iman's rape and murder.

But how could this be? The police claimed Mudassar to be the culprit a year ago. His family has been grieving for over a year.

As details emerge

Adnan, Mudassar's elder brother, says the police got it wrong.

Unable to settle in Kasur after the incident, Mudassar's brothers now reside in Lahore, while his parents still walk the same streets where their son died.

Since there is pressure by the police, they now reside in a different area of the city.

"I was the one who gave him (Mudassar) the final bath. He was my younger brother. He was a part of me. And he's gone now," says Adnan, now dealing with fresh wounds after the Zainab case.

The findings in Zainab's case contradict many facts in the FIR registered in Kasur in the Iman Fatima case. FIR No 189/2017 states that Mudassar died in crossfire between gang members on the night of February 23. Constables found Mudassar lying next to a motorcycle and with a gun on the street after they arrived at the scene.

The FIR record states that Mudassar had been shot prior to the police's arrival, but they somehow managed to get him to confess to the rape and murder of Iman.

This begs the question, why would someone with potentially fatal injuries confess to a crime he did not commit? Did the police deny him medical attention to coerce a confession?

According to DNA evidence, courtesy Zainab's murder investigation, the grounds in the FIR seem to be 'misplaced'. When one takes into account Mudassar's family statements, it makes even less sense.

While the family claims that police constables trashed Mudassar's house, demanding his whereabouts, the FIR states that Mudassar during his confession said he took Iman to a construction site where he raped her and eventually killed her when she struggled and made noise.

Rao Anwar staged fake encounter: inquiry

He also apparently managed to tell the constable – all the while bleeding through the bullet wound – that he was shot by a fellow gang member, Aashiq, and his brother, Adnan.

The FIR concludes by saying that Mudassar died while he was being shifted to District Headquarters Hospital (DHQ) Kasur.

The police charged him with murder, attempted murder, assaulting public servant, and obstructing a public servant. His brother, Adnan, is charged with murder.

Family's narrative

Given what has transpired in the wake of Zainab's case, the police FIR loses some of its weight. It definitely raises reasonable doubt whether Mudassar was the culprit.

Advocate Usman Ali Dogar and Advocate Sardar Ali Ahmed Dogar have now filed a petition on behalf of Mudassar's mother, Jamila Bibi, seeking justice in the case.

Adnan is also named in the FIR.

"They included my name in the FIR. They recorded that I shot my brother when, in reality, they came to our house on the night of February 24 and asked for Mudassar," Adnan told The Express Tribune. "When they knocked, with a contingent of around 15 constables, Mudassar's wife told them he was not home and they should come back later. Instead, they broke into our home and broke our furniture.

"They disrespected my mother and sister-in-law. We are waiting for the day we get justice. My brother is gone, but I hope no more people meet the same fate."

Former DPO Ali Nasir Rizvi and SHO Younus Dogar fabricated this 'extrajudicial' killing, says Adnan.

His mother, Jamila Bibi, has also written a letter to the current DPO narrating the family's account. In the letter, Jamila states that after the rape and murder of Iman, an investigation committee, headed by Dr Rizwan, a general counsellor, was set up. According to her account, Rizvi asked Dr Rizwan to close the investigation.

She says that Dr Rizwan was a close relative of Mudassar's boss, also named Ali. Dr Rizwan called Ali for some last-minute help, and in front of witnesses Mustafa and Amjad, Ali accused Mudassar of the rape and murder.

In hindsight, it would appear the police trusted hearsay over actual evidence.

False charges, real punishment

But when it comes to such matters, Pakistan seems to have developed a shortcut for handing out quick justice.

The case of Mashal Khan rings eerily similar. He was lynched in 2017 at Abdul Wali Khan University, Mardan after his classmates accused him of blasphemy. No case was filed and no allegations were proven.

In January 2018, a college student in Khyber-Pakhtunkhwa (K-P) gunned down his principal after he checked the boy for cutting classes to go participate in the Faizabad sit-in.

Human rights activist and lawyer Jibran Nasir has also raised concern over Mudassar's killing. "People have the tendency to practise 'quick justice'; they want to take the law into their hands. There is mob lynching, shopkeepers killing petty thieves who steal mobile phones or other small items. This culture is toxic for us," he told The Express Tribune.

"Before the chief justice of Pakistan, it was the media and everyday people who took notice of Naqeebullah's killing and the Zainab case. This means people are constantly aware of such incidents," he said.

Nasir also explained the legalities attached to extrajudicial encounters. "The FIR contradicts the family's account. But the FIR is dubious. There should be a fresh inquiry," he said.

"The DPO and SHO should be asked and the facts need to be reassessed. The FIR was lodged with malicious intent, which is why the family's FIR was never registered."

An inquiry has to be conducted before determining the culprit even after a confession, Jibran said.

"But 'encounter-culture' has taken over the country and the police make decisions."

The case of Naqeebullah Mehsud, who was allegedly killed in an encounter by former Karachi SSP Rao Anwar, has brought the topic from the shelf to the forefront of many debates.

Both Naqeebullah and Zainab's cases surfaced in January, and CJP Mian Saqib Nisar took suo motu notice of both.

Following the notice, the CJP ordered a Joint-Investigation Team (JIT) to probe Zainab's case. Members of the JIT also approached Mudassar's family including his brother Adnan.

Mudassar's brother, however, remains in pain. When asked why he did not approach the courts earlier, Adnan told The Express Tribune that he was under immense pressure from the police and the people who falsely blamed his brother.

"They kidnapped three of my cousins and two other relatives. They threatened us," he said. "It was painful, and I couldn't say a word."

"I tried to file an FIR the next morning. It cost me Rs5,000. I've spent almost Rs150,000 in the process. They later forced my parents to put their signatures on blank papers.

Bilawal demands ban on police encounters

"My mother told me she's lost a son and didn't want to lose another. I took her words to heart and we dropped further action," he further added.

DPO Rizvi and SHO Dogar both requested transfers after the incident. The Express Tribune reached out to Rizvi, who is currently in Quetta, Balochistan, but no response was received. SHO Dogar was also contacted, but to no avail.

Spare none

Punjab government spokesperson Malik Ahmad Khan had told the BBC that there would be a "full-fledged inquiry into the case" and that "any extrajudicial killing won't be spared."

Actions need to back up his words if the police's 'swift justice' policy is to end.

Nasir says that unless the police know they're accountable for every single bullet they fire, the institutionalised 'encounter culture' will not go.

While one can hope that Pakistan will redeem itself from the shadows of lawlessness that has crept up into even institutions, for now, one family will keep wondering where it went wrong – to lose a son, brother, husband, but most of all, a human.

A human who fell prey to an aimlessly fired bullet.

Edited by Bilal Memon.

Published in The Express Tribune, February 20th, 2018.