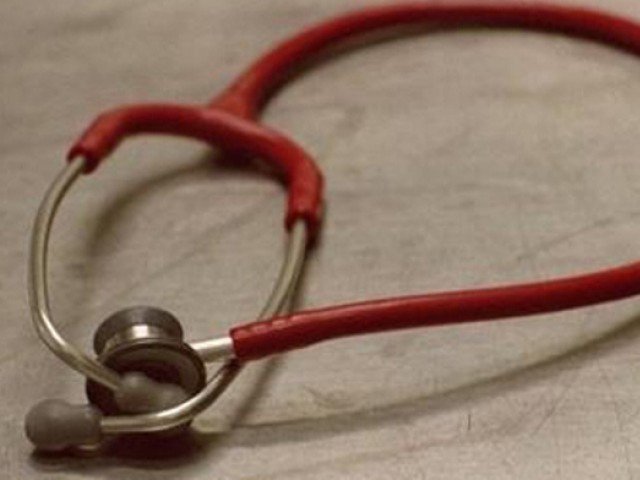 ---
KARACHI/ HYDERABAD: The outpatient departments (OPDs) in almost all the hospitals of the province remained closed for two hours from 10am to 12pm on Tuesday as doctors observed a token strike for the seventh day.

The doctors demanded promotions from grade 18 to grade 19, claiming that they have served on the same basic pay scale for around two decades.

They warned to continue their protest till their demands were met. However, the emergency department will keep on working.

On the call of the Pakistan Medical Association, the doctors wore black armbands and stayed away from the OPDs for two hours as well as staging demonstrations in premises of the hospitals.

Non-compliance of the high court's orders since June 1, 2016 and Supreme Court's (SC) orders dated August 7, 2015 by the Sindh government regarding delayed promotions and service structures of doctors of Sindh led doctors to observe a hunger strike.

Workers Welfare Board stages protest

Dr Muhammad Usman Mako, the petitioner in the case against the Sindh government and health secretary, while talking to The Express Tribune, demanded that 4,000 doctors from Sindh must be promoted immediately, according to the apex court's order.

He demanded that doctors must be given proforma promotions as per SC's orders.

"The government needs to regularise all the contractual doctors of different programmes and reimburse their salaries," he said, adding that time-scale promotions be given to all those who have been denied promotions for the past many years.

The media coordinator of the protest, Dr Razzak Rajpar, demanded that salaries and allowances of doctors should be equivalent to that of other provinces, adding that the doctors serving in Sindh are the most neglected in the country.

PMA General-Secretary said that the condition of doctors is not satisfactory due to the law and order situation, lack of facilities and non-payment of salaries.

Non-payment of salaries: Doctors' protest for 20th consecutive day outside Abbasi Shaheed Hospital

"Doctors in Sindh should be given promotions in light of the SC's order," Dr Amjad Mastoi, who led a protest in Dadu district, demanded.

In Thatta district, Dr Ali Muhammad Memon and Dr Ishaq Khatti led the boycott. They claimed that despite repeated assurances of the provincial government, the departmental promotion committee has not been constituted so far. "All other government departments are promoting senior employees but the medical practitioners are facing discrimination," alleged Dr Memon.

The protesting doctors at Liaquat University Hospital in Jamshoro district accused the Sindh government of deliberately procrastinating on the matter. They warned that the two-hour boycott of the OPD will continue on a daily basis if their demands remain unheard.

Health Secretary Fazalullah Pechuho, when approached by The Express Tribune, was not available for comment.


COMMENTS
Comments are moderated and generally will be posted if they are on-topic and not abusive.
For more information, please see our Comments FAQ