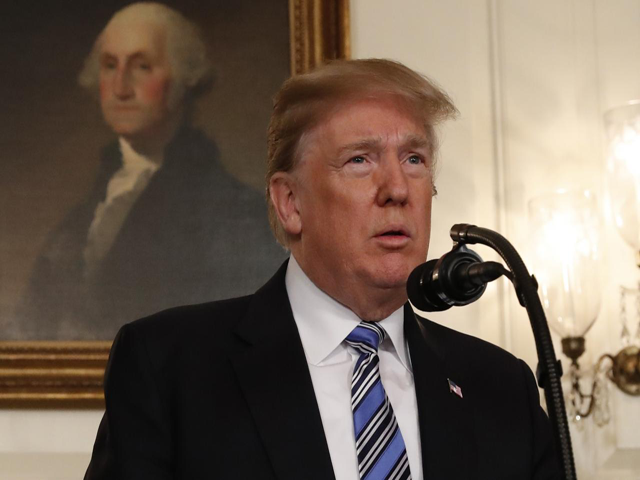 ---
WASHINGTON: US President Donald Trump signaled support Monday for a bipartisan effort to improve a national system of background checks for gun purchases in the wake of the Florida school shooting.

"While discussions are ongoing and revisions are being considered, the president is supportive of efforts to improve the Federal background check system," White House press secretary Sarah Sanders said in a statement.

Trump has come under intensifying pressure to act after a teenage gunman went on a rampage at a high school in Parkland, Florida on Wednesday, killing 17 people.

Angry students who survived the attack have called for a march on Washington to demand changes in US gun laws, calling out Trump and the powerful National Rifle Association at rallies.

Sanders said Trump had spoken to Senators Chris Murphy, a Democrat, and John Cornyn, a Republican, who have jointly sponsored a bill to fix a national database by requiring states and federal agencies to report more often on offenses that would bar an individual from buying a gun.

Trump turns on FBI over school shooting after criticism from survivors

The legislation amounts to a narrow, technical fix, leaving unaddressed the broader, divisive issue of permissive gun laws under a constitutional amendment that protects the right to bear arms.

Normally on opposite sides of the gun debate, the lawmakers teamed up in November after a gunman stormed a church in Texas, killing 26 people in one of the nation's deadliest mass shootings.

That gunman, Devin Kelly, was able to buy guns while serving in the air force despite a domestic violence conviction that should, by law, have prohibited him from purchasing or possessing firearms.

The conviction was never reported by the air force, however, exposing a major weakness in the background check system.
COMMENTS
Comments are moderated and generally will be posted if they are on-topic and not abusive.
For more information, please see our Comments FAQ