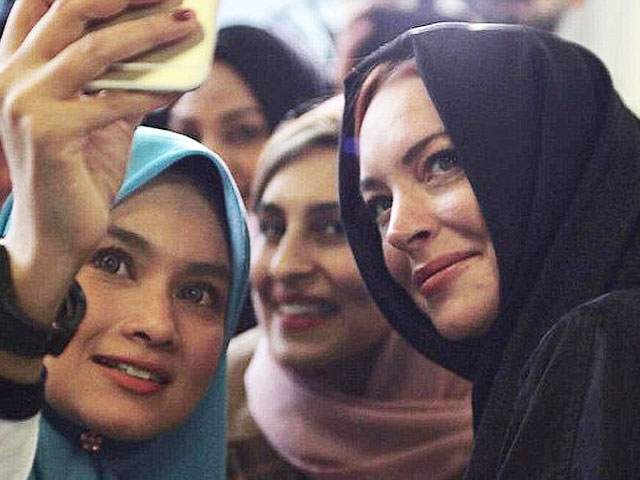 ---
Lindsay Lohan made headlines for her much-speculated change of faith when she was spotted holding the Holy Quran last year as well as sporting a headscarf.

Now, the Rumour singer was recently spotted wearing the headscarf once again at the London Modest Fashion Week on Sunday.

Lindsay Lohan's Instagram says 'Alaikum Salam' and people can't handle it


The Mean Girls actor, 31, opted to wear a hijab for the event, conforming to the event's theme - which showcased the latest styles in hijabs, abayas and long hemlines, reported Arab News.




Taking to Instagram, one of the halal makeup line, Hawa Cosmetics, shared the picture of the starlet with a caption, "Oh my days!".


https://www.instagram.com/p/BfTnpikgLxD/?utm_source=ig_embed


"As if Lindsay Lohan came over to say hello to Team Hawa! She was so lovely and was saying how she's into halal cosmetics and what she's actually wearing on her face today was all halal! Well all I can say is if it's good enough for Lindsay Lohan, (girl, what are you) all waiting for?"




Running alongside London Fashion week, the event, which charges up to £200 for tickets, features shopping, runway shows, talks and workshops - including a 'sharia legal hub'.





More than 40 designers from around the world showcased scarves, hijabs and loose-fitting maxi dresses at the annual style showcase organised by Haute Elan, who consider 'modest fashion' to be one of the fastest growing consumer markets.
Rumour mills abuzz as Lindsay Lohan spotted wearing headscarf
In January, Lohan deleted all the pictures on her Instagram account and changed her bio to 'Alaikum salam.'
However, the actor has not yet revealed whether she is converting to Islam, while her representative refused to respond to a question proposed by a Daily Mail correspondent too.
Lindsay Lohan reveals her 'Muslim' side
When appearing on the Turkish talk show Haber Turk later year, she explained that the Quran she was holding was actually just a gift from some friends.
"My very close friends, who have been there for me a lot, in London are Saudi and they gave me the Quran and I brought it to New York because I was learning," said Lohan.


In a post that's now deleted, the starlet took to Instagram to give a sneak peak on her upcoming fashion line. And, by the modest looks of it, seems like it will be comprising hijabs.

Captioned as, "New Fashion Line coming soon ….#fashion", the star is seen wearing a headscarf, with her face half hidden.

The actor had also said that she had tried praying "the Muslim way" and even fasted during Ramazan. "I did Ramazan for three days with my friend from Kuwait. It was hard but it was good. It felt good," she said.

Have something to add to the story? Share it in the comments below. 
COMMENTS
Comments are moderated and generally will be posted if they are on-topic and not abusive.
For more information, please see our Comments FAQ