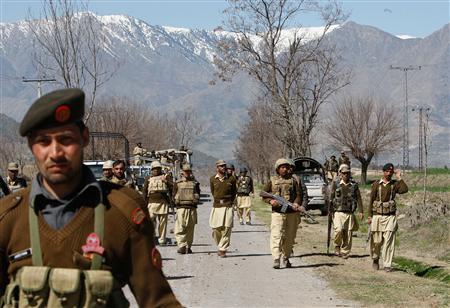 ---
SHABQADAR: Two suspected suicide bombers were killed during a security operation in Bajaur Agency late Sunday night.

Political Administration officials confirmed that the security forces conducted an intelligence-based operation (IBO) in Katkay area of District Mamond. During the raid, two suicide bombers blew themselves up while another opened fire. He was killed by security personnel in the exchange of fire.

The bodies of the militants were moved to Headquarters Hospital in Khar.

Meanwhile, political administration have revised security arrangement at all entry and exit points in Bajaur.


Fearing suicide attack, Bajaur Agency on 'high alert'


Earlier this month,  a 'high alert' warning had been in effect in the agency following reports of a possible suicide attacker's entry into the agency.

The Bajaur Administration issued an alert of a suspected suicide bomber's entrance and a sketch detailing a teenager, urging locals to stay vigilant and inform the security forces of any suspicious activity. A reward of one million was announced for the informants.