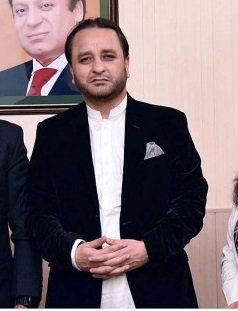 ---
The Gilgit-Baltistan Pakistan Peoples Party on Sunday said it was bringing a no-confidence motion against G-B Chief Minister Hafeezur Rehman.

Rehman enjoys majority support of Pakistan Muslim League Nawaz (PML-N) in the Gilgit-Baltistan Legislative Assembly (GBLA).

But PPP, with only two seats, said it will muster support of 20 out of 32 members in GBLA to unseat the CM.

"CM Rehman has failed to deliver during the past two years," PPP lawmaker Javed Hussain said at a conference at National Press Club in Islamabad on Sunday.

He claimed that besides members from opposition parties, PML-N members of GBLA too want change of face in the government. Apart from the poor performance of his government, the ministers and members of kitchen cabinet of the chief minister are unhappy over his attitude, Hussain said.

Ex-chief minister Syed Mehdi Shah, former minister Local Bodies Engineer Ismail, former information minister Sadia Danish and other party leaders were also present on the occasion.


PTI urges G-B chief minister to step down


"Bringing no confidence motion is unanimous decision of our party in G-B. If legislator having single seat in Balochistan Assembly can launch no-confidence motion, why our party having two seats cannot make such change," said Mehdi Shah.

Shah said Rehman has become a dictator for not only people of G-B but also his party workers.

He said that the decision of abandoning G-B Council without giving alternate powers to G-B is highly unjustified move of PML-N government in the centre.

The PML-N government has pushed back G-B to the position of 2008 by rolling back all reforms introduced by PPP in 2009 through introducing a Self Governance Order.

Ismail said G-B has been sidelined in the every agreement signed with China under China Pakistan Economic Corridor (CPEC) despite being gateway of the multibillion dollar project.

He said local residents have strong reservations over the absence of CPEC related projects in GB.

Talking about the planned no-confidence motion, Javed Hussain said that next chief minister, as per understanding among the 20 members of the assembly, will be from Diamer district.

A GBLA member of PML-N from Diamer, Haji Janbaz, has serious differences with Rehman. Hussain claimed he was announcing the movement after completing consultation with the nine members the ruling party along with 11 members of opposition parties in the regional assembly. At least 19 votes are required to oust the chief minister in the assembly.

He said the dramatic decision of the federal related to GB Council has further increased division in PML-N in the area which will ultimately support the no confidence move.

Published in The Express Tribune, February 19th, 2018.
COMMENTS
Comments are moderated and generally will be posted if they are on-topic and not abusive.
For more information, please see our Comments FAQ