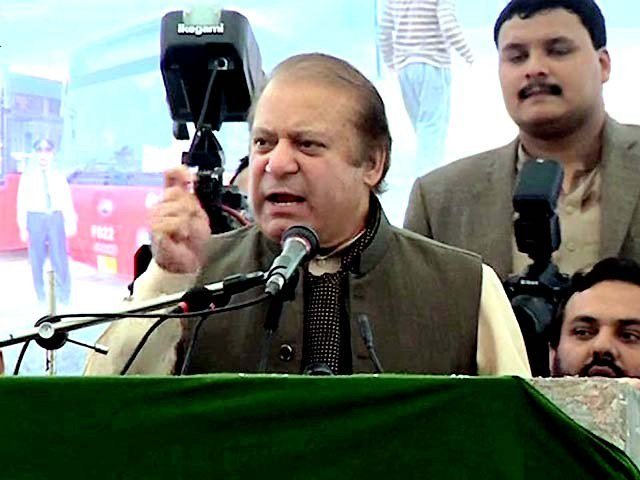 ---
LAHORE: Former prime minister Nawaz Sharif and his daughter Maryam Nawaz continued with their diatribe against the judiciary, besides targeting the Pakistan Peoples Party (PPP) during a rally in Sheikhupura on Sunday.

"People have already taken out the PPP, and in the upcoming general elections they will also kick out the party waiting for the umpire's finger [PTI]," said Sharif at the rally which is part of the Pakistan Muslim League-Nawaz's (PML-N) mass-contact drive.

He was flanked by his daughter Maryam Nawaz and other party leaders.

The emphasis on "Mujhe Kyun Nikala" (why was I ousted) has now shifted to a more politically acceptable slogan – "restoring sanctity of vote".

Sharif also seems to have notched down his tirade against judiciary, but Maryam was filling in for her father.

He kept targeting his main political rivals – the PPP and the PTI.

PCO judges committed treason: Sharif

Including the Lohdran convention, this was Sharif's fourth political rally in a month.

He alleged that both the parties had done nothing for their respective provinces, adding that they had failed to initiate even a single development project.

He said, "PPP had plunged Pakistan into darkness but we rescued it."

In a sarcastic manner, he said that making Pakistan an atomic power was the reason that his governments had failed to complete their tenures.

"At first in the 90s, it was motorway; then in the second tenure it was atomic power; and now it was [the steps for] making Pakistan a prosperous state that led to his disqualification," he said.

"I was punished for serving Pakistan and for making it a successful state," he said, adding that those conspiring against me were trying to take revenge for serving the country, "but I fear only Allah".

He said those doing injustice would also be held accountable.

"I have not committed corruption of even a single penny," he said, asking people to come forward if they had any shred of evidence in this regard.

"It was not corruption, but in fact not taking pay from my son that got me disqualified," he added.

Sharif said millions had voted him to power, while only a few had kicked him out. He urged people to restore the sanctity of vote. He took a pledge from the people attending the rally to support him in his drive to restore the sanctity of vote.

Contempt of court on Nawaz is a contempt of vote: Maryam Nawaz

Taking over the dais, Maryam had more of an aggressive stance towards the judiciary.

"The time is coming when a real Joint Investigation Team will be constituted to probe those who constituted a JIT over the phone and on a whatsapp call," she said.

"A JIT [will be formed] that will find out the reason behind declaring a petition frivolous and not admitting it for hearing… a JIT that will review those who slammed Sharif with titles like godfather, Sicilian Mafia, and thief," she said. "What more proof of injustice do we need," she added.

Maryam said it was evident from the judges' language that they had already made up their minds to oust Sharif before delivering the verdict, adding that those judges were still hearing his case.

"Why can't the ones handing out justice exercise their powers during military rule! Why elected PMs are only targeted! Why don't they have the right to revoke Articles 62 and 63 against dictators!" she exclaimed.

"Our fight is not for the government, but for the democratic system," she said, adding that Sharif's case was unique as he was kicked out thrice from the premiership.

She asked, "What kind of justice is this that first you do not let Sharif come to Pakistan to attend his father's funeral, and now you don't want to let him leave the country to be with his ailing wife in London."

She said that for 20 years people had been trying to succeed in their minus-Sharif formula, but all they got was ignominy of defeat and Sharif got more and more love and affection from his voters.

Maryam was presented with a gold tiara worth more than Rs1 million by the local leadership of Sheikhpura.

According to the PML-N plan, Sharif will hold his next rally in Bahawalpur on February 28. An address in Chitral is also on the cards.
COMMENTS (2)
Comments are moderated and generally will be posted if they are on-topic and not abusive.
For more information, please see our Comments FAQ