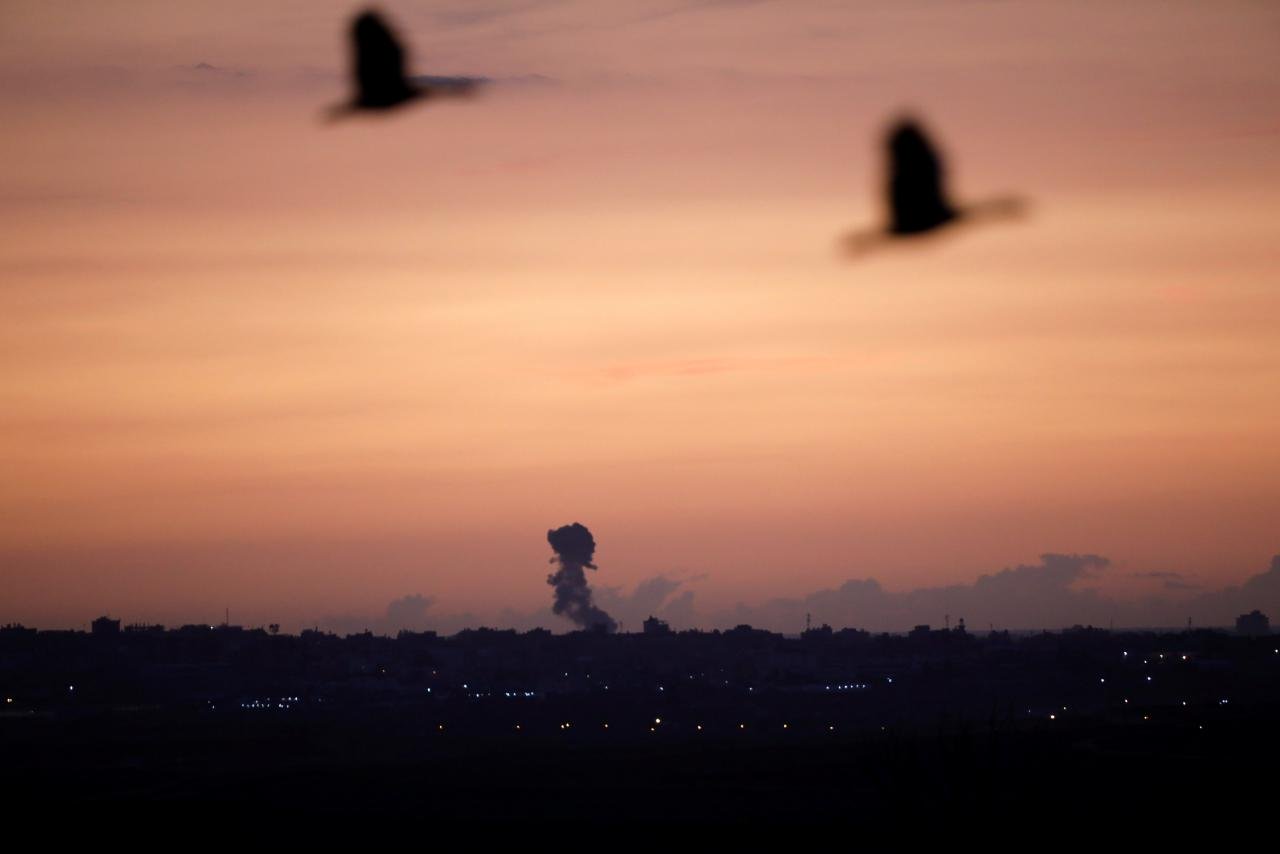 ---
GAZA CITY:

Israeli jets struck the Gaza Strip on Saturday, Palestinian sources said, after four soldiers were wounded in a blast along the border with the enclave.

The explosion which left two of the soldiers severely injured was one of the most serious incidents on the border of the Hamas-ruled enclave since the Islamist movement and Israel fought a war in 2014.

Prime Minister Benjamin Netanyahu at a security conference in Munich called it "very serious" and pledged to "respond appropriately".

A Palestinian security source said air strikes hit three bases belonging to Hamas in the east of the blockaded Gaza enclave, but there were no details on any casualties.

An Israeli military spokesman refused to confirm the air bombardments.

Israel hits Gaza after rocket fire

Earlier in the day the army said "two soldiers were severely wounded, one moderately and one slightly" when an improvised explosive device blew up along the border fence with Gaza.

None of the soldiers lives were in danger, a spokesman clarified.

In response Israeli forces said a tank quickly opened fired at an "observation post" in southern Gaza.

Palestinian security sources said the explosion took place east of the city of Khan Yunis, causing no injuries on the Palestinian side.

Spokesman Jonathan Conricus said a "rogue group" had claimed responsibility for the blast, which are present in Gaza.

But he insisted that "from our point of view Hamas is responsible" and said the explosive had been planted during a protest arranged by the group on Friday.

Israel holds the Islamist Palestinian movement Hamas responsible for any fire coming from the blockaded coastal enclave.

Hamas and Israel have fought three wars since 2008, and the last conflict in 2014 was waged in part over tunnels from Gaza that were used to launch attacks.

Israeli aircraft hit Hamas targets in the southern Gaza Strip repeatedly in early February, after it said Palestinians there fired a rocket into the Jewish state.

Rockets are usually fired not by Hamas, but by fringe radical groups.

The Israeli army responds automatically to any strikes on its territory, generally targeting Hamas facilities.

Tensions between the Palestinians and Israel have been high since US President Donald Trump recognised Jerusalem as the capital of the Jewish state in December.

Differently-abled Palestinian protester killed by Israeli fire: Hamas autopsy

Israeli premier Benjamin Netanyahu will visit the White House next month, a senior US administration official told AFP on Friday.

The March 5 visit comes after a war of words between close allies Israel and the US over settlements, and a scandal that has seen police recommend Netanyahu be indicted for graft.