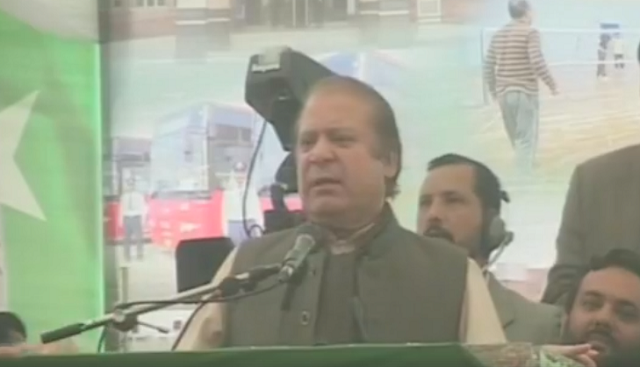 ---
BHAWALPUR: After scoring a big win in the Lodhran by-election, PML-N President Nawaz Sharif did not hesitate one bit to cash in on the opportunity to vent his anger at his political rival – PTI Chairman Imran Khan.

"Allah has broken the arrogance of PTI," said the former prime minister while addressing a Pakistan Muslim League-Nawaz (PML-N) workers' convention in Lodhran on Saturday.

He was flanked by Punjab Chief Minister Shehbaz Sharif, daughter Maryam Nawaz, Shehbaz's son MNA Hamza Shehbaz, Federal Minister Abdul Rehman Kanjoo and MNA Syed Pir Iqbal Shah.



Contempt of court on Nawaz is a contempt of vote: Maryam Nawaz

"I personally came here to congratulate the people of Lodhran," said Sharif. "You cannot imagine how happy I am that you have trusted us," he told the gathering.

Criticising the PTI chief, he said, "Umpires fingers do not make decisions, people's thumbs do."

"Lodhran's decision is reverberating in the whole world and in 2018 general election each constituency will become Lodhran," said Sharif, adding that the people of Lodhran had restored the credibility of vote by saying 'no' to those who did nothing in five years other than telling lies.

Cussing the PTI chairman on his statement that 'they will learn from Lodhran's defeat', Sharif said, "It is not for you to learn, but the people will teach you themselves."

He said that he had been serving the people since 1985, and after him Shehbaz did.

Lodhran by-poll: Sharif surprised by 'unthinkable victory'

"Best roads are being constructed, hospitals and educational institutes have been built, electricity is made available, and that too on cheaper rates, expenses of tube wells have reduced to half and industries that had been in a deplorable condition now have electricity," he said, listing the incumbent PML-N government's achievements.

Sharif said Shehbaz had rendered great services by completing those projects in 20 months which were impossible to complete in years.

He said the PML-N government brought peace to Karachi even though it was the responsibility of the PPP government in Sindh. "If the people of Pakistan elect the PML-N once again, its first task will be to provide gas in Lodhran," he added.

Taking over the podium, the Punjab chief minister said, "People of Lodhran have thrown the ATM into River Sutlej."

He continued, "PML-N has broken the ATM. Allah has defeated the arrogant PTI."

Shehbaz said the PTI claimed to have produced 74MW electricity in Khyber-Pakhtunkhwa, "but where has that electricity gone?" He said they had lied to the people to hide their failure of not being able to produce even a single megawatt.

He accused the PML-N opponents of offering Rs5,000 for a vote, but said the people of Lodhran rejected the offer and voted for the PML-N.

On the occasion, the Punjab CM announced an underpass to be constructed in Patanwala at the request of federal minister Kanjoo and a bypass in Dunyapur.
COMMENTS
Comments are moderated and generally will be posted if they are on-topic and not abusive.
For more information, please see our Comments FAQ