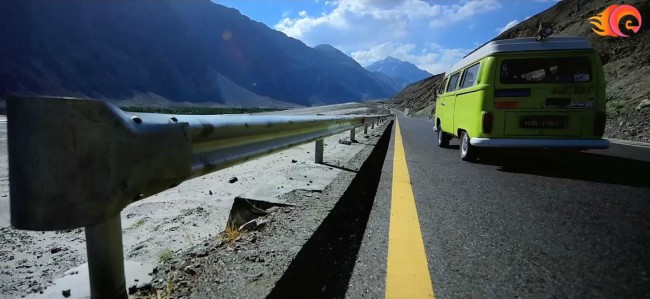 ---
KARACHI: Movies like Janaan and Jawani Phr Nahi Aani gave us major wanderlust. Switzerland, Greece and Italy are one of the first places that come to our mind when we think of breath-taking scenes, not only for some time off but also to explore.

So, what do we do to get to these heavenly sights? Sell a kidney? Rob a bank? There might just be another way. Here is a list of spectacular places within Pakistan that will woo you right out of your shoes.




Swat Valley

Azfar Jafri's Janaan was almost completely shot in Swat. This beautiful valley has everything from mountains of great heights, soothing greenery, a clean, vibrant sky and crystal-clear streams. After all, it was when Queen Elizabeth II visited Swat in 1961 that she made her famous remark, calling Swat "The Switzerland of the East". We couldn't agree more!




French Beach, Sindh

Even though Jawani Phir Nahi Ani was shot predominantly in Thailand with its mesmerising beaches, one does not have to travel all the way there to get a taste of the ever so lax beach life. The French Beach in Karachi is one of the most stunning beaches in the country which is ideal for snorkelling, scuba diving and even surfing during the monsoon season. And guess what? You don't have to break the bank to enjoy that scenic sunset.




West Bay Beach, Balochistan

When it comes to beaches Maan Jao Na added their two cents to ultimate travel goals by filming Rang Laga at a beach setting. Beaches aren't limited to Karachi, Balochistan is also blessed with a few gems of its own. The West Bay Beach is located on the Makran coast. It is widely known for its diverse marine life and matchless scenery. And the food available is as fresh as it can get – and dirt cheap.




Kel, Azad Kashmir

The song Beliya from Mehrunisa V Lub U gave us massive snow cravings. A small village named Kel located in the Neelam Valley of Azad Kashmir at the altitude of 6,879, 155 kilometres from Muzaffarabad is one of the most beautiful places to visit if you want to experience snow at its purest. Who needs to bust their wallets for a trip to Iceland now?




Attabad Lake, Gilgit-Baltistan.

Chalay Thay Saath highlighted the Hunza Culture and its scenic shots made it impossible to not include it in this list. Lake Attabad is situated in Gojal Valley, Hunza. It was created in 2010 by a landslide dam and has been an adored tourist attraction ever since. The lip-smacking view, stately mountains and amicable locals make this area a must-visit spot.

So, grab a backpack, rent a car, seize a day (Or a few) and road trip all the way to one or all these spellbinding places to gain new experiences or to simply take a break.

Have something to add to the story? Share it in the comments below.
COMMENTS (2)
Comments are moderated and generally will be posted if they are on-topic and not abusive.
For more information, please see our Comments FAQ