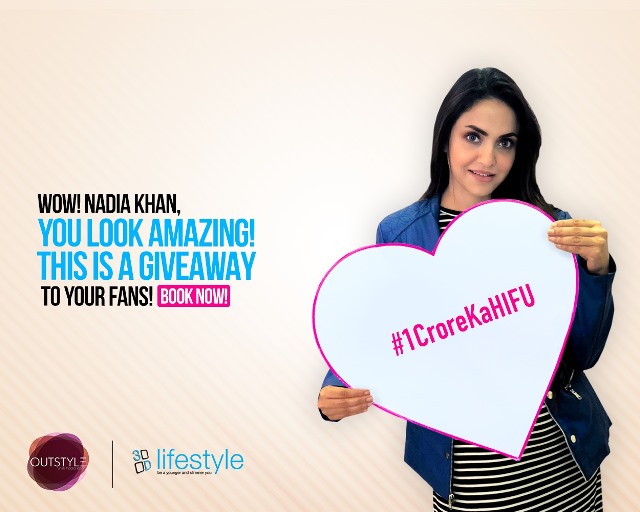 ---
If you have ever wondered what a non-surgical face-lift really looks like, we have got a behind-the-scenes exclusive. HIFU, the most discreet and effective face-lift ever, is so quick that you can do it in lunch break.

When you think of facelifts, what springs to mind? Needles, surgery and going under the knife? Well, there's a new procedure in town and it's seriously attracting A-list celebrities all over Pakistan.

HIFU face-lift serves as physical Photoshop to fix the features people do not like when they see themselves through the lens of their camera. These could be wrinkles, sagging cheeks, prominent nose to mouth lines, drooping jowls, or heavy brow. The non-surgical face-lift using the latest HIFU ultrasound technology could be the perfect treatment for those eager to have glowing, younger looks.




The 90-minute treatment works by stimulating growth of new collagen resulting in a lifted, firmer and more toned appearance. It addresses all areas on the face or neck with skin laxity issues and this highly effective treatment shall bring a new definition to the face. The results will develop over the course of two-three months with continued improvement for up to six months and will last for approximately two to three years.

This one-off treatment with no downtime, is suitable for anyone who wishes to tighten or lift the face and neck without injectable, no cuts to the skin and no fear for scarring, hence it is easy to see why this is fast becoming the darling for those who want to keep themselves on par in today's beauty bandwagon.




Flying over to Karachi in an endeavour to experience the buzz around 3D lifestyle's advanced facial contouring treatments at their clinic in Clifton, you would expect Nadia Khan, renowned actress and television host, to be suffering from jet-lag. To the contrary, she was excited, breezy and full of energy to try out the new High Intensity Focused Ultrasound (HIFU) treatment.

"The smoothness I feel in my skin is incredible; there's definitely a difference as my skin feels tightened and I can sense the treatment working underneath my skin layers. The texture and quality of my skin post treatment is amazing and the doctors pointed at the areas where the lift will take its effect."

[embed]https://www.youtube.com/watch?v=l8IaZcvxd9Y&t=727s[/embed]

HIFU is one of the best-kept secrets in the beauty industry. We are noticing more and more mid-aged beauty conscious males and females coming for treatment because there is no downtime and it looks totally natural. It enhances the natural beauty of the face, rather than changing it and helps re-contour and refine the structure without looking fake.

Celebrities and doctors around the world undoubtedly are opting for facial HIFU treatment as their preferred choice.Post treatment, Nadia gave a shout out to 3D lifestyle on her Youtube and Instagram, further recommending the brand to offer promotional discounts to her fans.




Honouring the request from one of the most followed celebrities, Mr. Jawad Qureshi, CEO and founder of 3D lifestyle Pakistan did not wait and immediately announced a bumper give-away which all Pakistanis and Nadia's fans will remember in times to come. Additionally, he promised 60 free HIFU treatments worth Rs1 crore to those lucky enthusiasts who shall sign up here and participate in the 'February face-lift bonanza'. 3D lifestyle is giving them the opportunity to be part of the era where beauty doesn't have to cut skin deep. Simply go to 3D lifestyle's Facebook or official page to avail this rare and exclusive promotional offer.

[embed]]


About 3D Lifestyle:

3D lifestyle with over 800 clinics just in the UK, promotes itself as a 'mainstream affordable non-surgical Face & Body contouring treatment' available now in all major cities of Pakistan. If you are looking for a Non-Surgical treatment to tackle the signs of aging or if you are concerned about your pockets of stubborn fat, 3D lifestyle offers scientifically backed treatments like Cryo-lipolysis (fat-freezing), Cavitation (instant subcutaneous fat loss), Radio Frequency (Skin tightening face & body) and HIFU which have medical approvals from most governing bodies of the world.

In particular, HIFU stands for High Intensity Focused Ultrasound & it is the latest non-surgical treatment available in the market today for lifting and tightening the face, neck and décolletage. It works by naturally stimulating the production of collagen for a natural, younger looking appearance. It uses ultrasound to actually lift muscle and tone loose or sagging skin without any side effects.
COMMENTS
Comments are moderated and generally will be posted if they are on-topic and not abusive.
For more information, please see our Comments FAQ