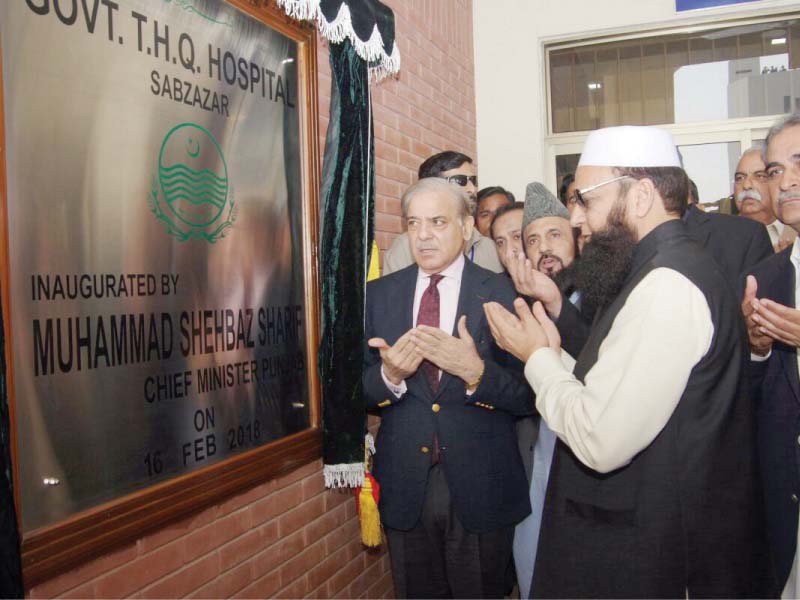 ---
LAHORE: Punjab Chief Minister Shehbaz Sharif has said that first free cancer hospital will be established in Lahore if they win elections.

He was addressing the participants after the inauguration of the Government THQ Hospital Sabzazar on Friday.

The chief minister said Pakistani doctors working across the globe would be extended invitations to return back home to serve the people.

He added that the expatriate medical professionals would be offered to join this institution so that the patients could get best medical facilities.

"If the people re-elect us in the elections of 2018, the foundation stone of cancer hospital will be laid in September to provide best treatment facilities to the patients with cancer," he said.

He added that a culture of service would be introduced in hospitals for providing better healthcare service to the people and instead of adoption of any impolite or harsh attitude, the patients would be treated with love and affection and there would be no strike or maladministration in the hospitals. "The surgical, as well as other new wards, developed at the Mayo Hospital give the impression of a modern European hospital because of availability of high-quality treatment facilities."

Similarly, there is no example of establishing six hospitals during the last four years in Lahore and its surroundings.

The hospitals established in Sabzazar, Manawan and Raiwind are serving people of the areas after their completion. The mother and child hospital in Lidhar is functional while a hospital in Kahna and other hospitals are about to be completed soon.

The chief minister said that public service is the core vision of Pakistan Muslim League-Nawaz (PML-N). Nawaz Sharif gave the innovative project of motorway in addition to a marvelous project of concrete roads in villages.

Under this vision, thousands of kilometers long roads have been constructed in different villages during the last four-and-a-half years by spending an amount of Rs.85 billion in the province.

Shehbaz said that sports gymnasiums are being established in Lahore as well as in other parts of the province where high-quality sports facilities, including swimming, are provided to the youth.

"Our mission is public service and serving the humanity and we will continue to serve the masses with honesty, sincerity and trust."

Published in The Express Tribune, February 17th, 2018. 
COMMENTS
Comments are moderated and generally will be posted if they are on-topic and not abusive.
For more information, please see our Comments FAQ