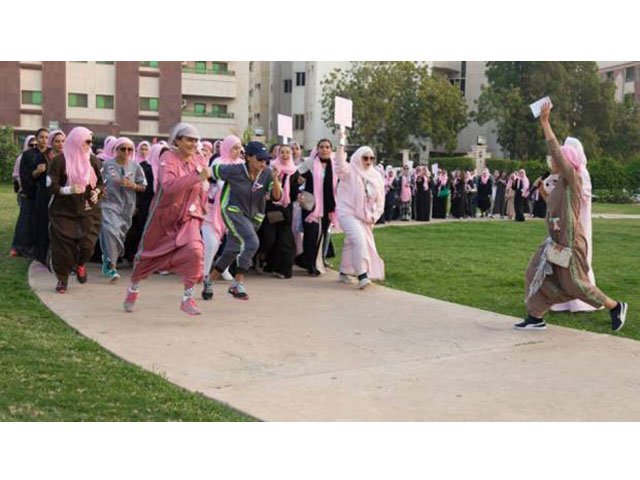 ---
Dozens of health enthusiasts participated in the first session of an all-women race organised by a fitness trainer as part of her efforts to encourage healthy lifestyle.

Saudi national Rasha Al Hambra founded the organisation 'Bliss Runners' to promote the culture of walking and running in the country.

"It is the only form of exercise that does not require any equipment or office space," Hambra told Gulf News.

The group members participated in Dubai Women's Run at Massari Village in November. It schedules three sessions a week for running drills, though the group does not have an outdoor ground for practice.

Bills Runners is seen running along the numerous walking tracks in Jeddah also around commercial compounds and stadiums.

"We take our runs anywhere in our beautiful city. Each run on an average is 4-6km," Rasha says.




PHOTO: TWITTER/@bliss_run

Hambra begun her running routine when she was in the United States. When she returned home, she conducted a survey in Jeddah to find out interests of women in running and fitness.

The response of the survey was inspiring to form a running women group. She named the group 'Bliss Runners' as she felt running generated a feeling of pure bliss.

Bliss Runners today has 100 registered members, including 65 active runners.

The trainer said, "General Sports Authority of Saudi Arabia has offered support to the group by opening up its training facilities around Jeddah and at the King Abdullah Sports City".

"They have also shown willingness to collaborate with us and support us with legal issues and permits," She added.


PHOTO: TWITTER/@bliss_run

The group promotes itself through Instagram and they also have set up a WhatsApp group, which is open to anyone interested in running and staying fit. The group is gaining a strong following.

The group makes sure that runners are modestly dressed. "The abaya we wear are designed by local abaya designer Emaan Johaarjy, and meet the requirements of active ladies."

The outfit accommodates the needs of Muslim women who workout and lead an active lifestyle, and at the same time are fashionable," the team leaders said.

The group is optimistic to participate in other international running events. It has also initiated a teens' training programme.

Bliss Runners hopes to start a national youth runner's team while looking for sponsors to help achieve its goals.
COMMENTS (2)
Comments are moderated and generally will be posted if they are on-topic and not abusive.
For more information, please see our Comments FAQ