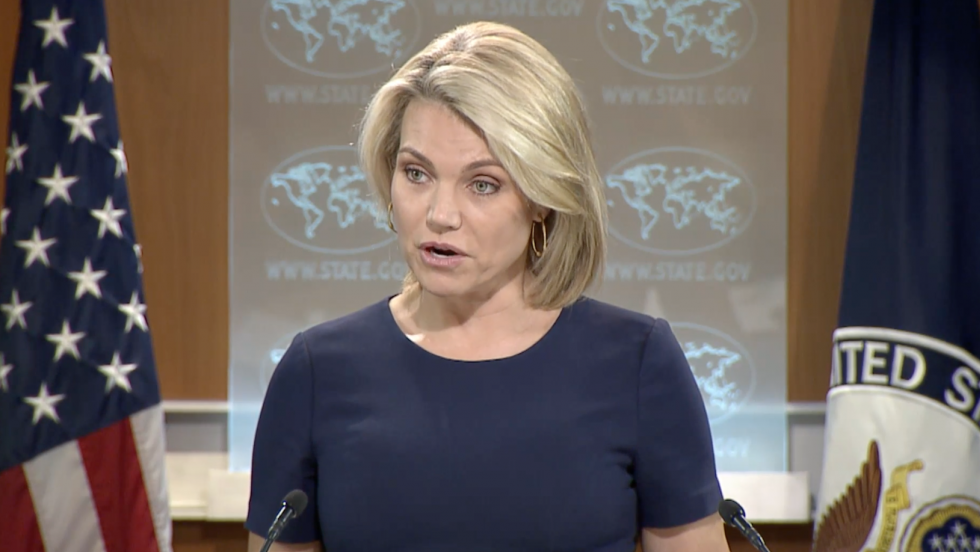 ---
US State Department Spokesperson Heather Nauert has expressed concern about 'Pakistan's deficiencies in the implementation of anti-money laundering and counterterrorism laws'.

Talking to reporters during a press briefing, Nauert admitted that a resolution to place Pakistan on a global terror-financing 'watch list' had been submitted to the Financial Action Task Force (FATF).

The spokesperson told reporters that the US had been concerned for a long time about the actions of Pakistani authorities.

"We have therefore decided that we want to place Pakistan on an international watch list. Further details about the matter are confidential, and cannot be revealed at the moment," Nauert added.

US pushes motion to put Pakistan on global terrorist-financing watchlist

Earlier, a senior Pakistani official had said that the United States was putting forward a motion to place Pakistan on a global terrorist-financing watch-list with an anti-money laundering monitoring group.

Pakistan has been scrambling in recent months to avert being added to a list of countries deemed non-compliant with terrorist financing regulations by the Financial Action Task Force (FATF), a measure officials fear could hurt its economy.

The United States has been threatening to get tough with Islamabad over its alleged ties with militants, and last month President Donald Trump's administration suspended aid worth about $2 billion.

Islamabad denies assisting militants in Afghanistan and India.
A meeting of FATF member states is due to take place next week in Paris, where the organisation could adopt the motion on Pakistan.

Adviser to the Prime Minister on Finance, Miftah Ismail, told Reuters the United States and Britain put forward the motion several weeks ago, and later persuaded France and Germany to co-sponsor it.

"We are now working with the US, UK, Germany and France for the nomination to be withdrawn," Ismail said, speaking by telephone from Europe. "We are also quite hopeful that even if the US did not withdraw the nomination that we will prevail and not be put on the watch-list."

Pakistan says taking steps to curb terror financing, money laundering

Pakistan was previously on the FATF watch-list from 2012 to 2015. A senior US official, who follows US policy in the region, said Pakistan has "always been selective" in cracking down on militants who use its territory as a base.

"It is time for that to stop, and so we are working with our allies, who also are affected, to see effective action against groups such as the Haqqanis and elements of the Taliban," said the official, referring to militants operating along the border with Afghanistan.