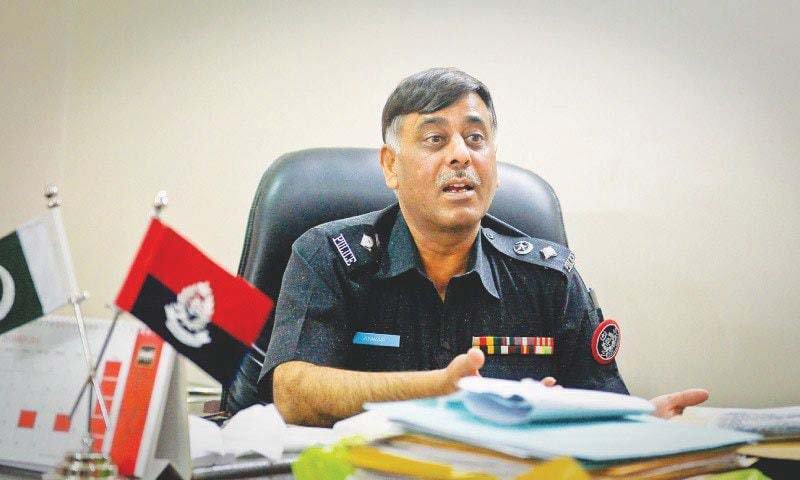 ---
ISLAMABAD: The top court on Friday issued a contempt of court notice to former SSP Malir, Karachi Rao Anwar for defying an order to appear before it in a suo motu case regarding extrajudicial killing of Naqeebullah Mehsud.

The court also ordered the State Bank of Pakistan governor to freeze all of Anwar's bank accounts immediately.

The three-judge bench, headed by Chief Justice Mian Saqib Nisar, cancelled an earlier order granting Anwar protective bail. The bench directed all agencies to cooperate with the Sindh Police in tracing him.

The bench has also asked ISI, MI, FIA Karachi and FC to furnish separate reports in the case.

It also asked police to ensure security for all witnesses. The bench observed that they had given him a chance to appear but he had wasted it.

Inspector General of Sindh Allah Dino Khawaja told the bench that Anwar had also contacted him through a WhatsApp call and had assured to appear before the court.

Counsel for the family of Naqeebullah, Faisal Siddiqui, told the court that at least 15 other officials suspected of involvement in the fake encounter were also missing.

Never seen a case where suicide bomber's body is in one piece: CTD official on Rao Anwar attack

However, IG Khawaja informed the apex court that nine out of the 21 accused had been arrested by the Sindh Police.

Siddiqui stated that Anwar went to Dubai 74 times in last four years.

The court adjourned the hearing for two weeks.

CTD starts probe into another killing by Anwar

Separately, Sindh Chief Minister Murad Ali Shah said that the government would comply with the SC orders. "In the case of Anwar, we will do as the SC says," he said while addressing the media-persons on Friday.

On February 13, the SC had granted protective bail to Anwar until February 16. Police officials of Sindh and Islamabad were instructed to provide him security prior to his appearance in front of the court and not to arrest him.

The court ordered the police officials to facilitate his appearance.

The court was also willing to form a new Joint Investigation Committee (JIT) comprising of civil and military officials, including the Inter-Services Intelligence (ISI) after Anwar wrote a letter to the CJP denying all allegations of a fake encounter against him.

In his letter, Anwar stated that he was not present on the spot when Naqeebullah was murdered and was being framed 'falsely'. However, Anwar did not appear before the bench. Some lawyers believe that he might have changed the decision regarding his appearance before the court after the arrest of former Evacuee Trust Property Board chairman Asif Hashmi, when he appeared before the court on Thursday.
COMMENTS (1)
Comments are moderated and generally will be posted if they are on-topic and not abusive.
For more information, please see our Comments FAQ