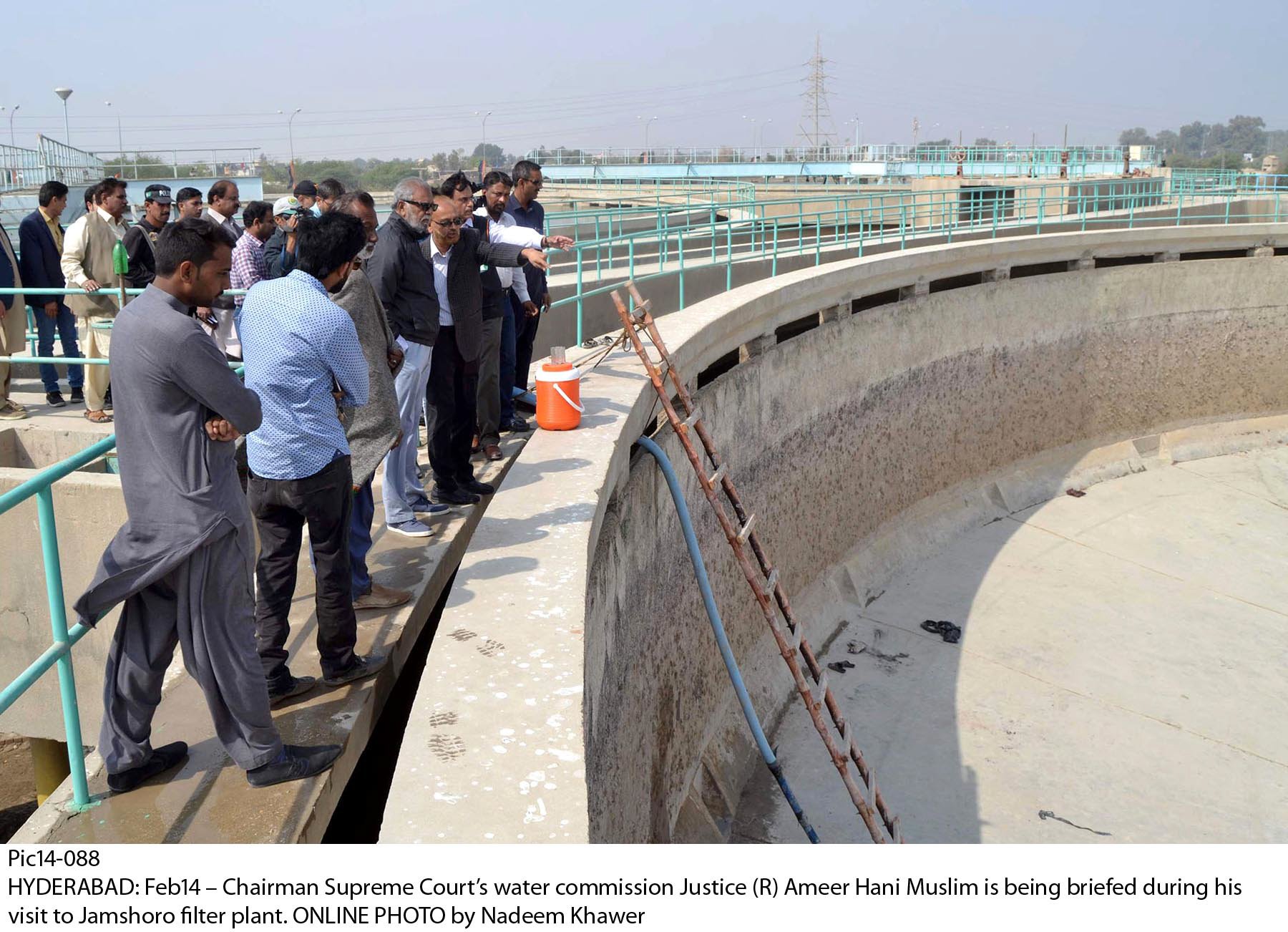 ---
HYDERABAD: The judicial commission on water and sanitation visited Hyderabad on Wednesday for the second time in 24 days and reviewed implementation of its earlier orders. The commission's head, Justice (retd) Amir Hani Muslim, accompanied by the officials of different government departments, inspected several sites in the district and expressed his dismay over delay in the implementation.

The judge inspected the water filtration plants, canals and sewage treatment plants. "Solid waste is still lying in the [Phuleli] canal. Why?" the judge questioned. Hyderabad Municipal Corporation Mayor Syed Tayyab Hussain responded by claiming that the quantum of waste is much lower than the tons of garbage that littered the canal's bank.

"The commission should order stone pitching of the canal so that waste cannot be dumped there," the mayor suggested. However, the judge pointed out that the encroachments along the canal still existed and can impede pitching work. Nevertheless, Justice (retd) Muslim directed managing director of the Sindh Irrigation and Drainage Authority, Wali Muhammad Naich, to prepare a PC-1 for the reinforcement and pitching works at the canal.

Judicial commission inspects two sewage treatment plants

Naich maintained that the project may cost up to Rs1 billion and will likely require approval in the Sindh government's Annual Development Plan. Still, he sought 15 days from the commission to prepare the proposal but the judge gave the MD only seven days for compliance and submission of the PC-1.

During the visit, the commission also noticed the cleaning of rice and lentils and of the bags in which they are filled along the canal's bank. The activity sent off dust in the atmosphere. Some local people also reached out to the commission and complained about the health problems they suffered. "If I ask you to stand in this place for five minutes, the punishment shall be sufficient," the judge said, reprimanding the incharge regional director of Sindh Environment Protection Agency, Munir Ahmed Abbassi, for his failure to stop this work. Justice (retd) Muslim ordered the authorities to immediately stop the rice and pulses mills from polluting the environment.

The employees union of the Hyderabad Development Authority (HDA) complained to the judge that they and the workers of HDA's subsidiary Water and Sanitation Agency (WASA) have not been paid salaries for four months. They apprised the commission that they feel compelled to take recourse to protest twice or thrice a year to force the government to pay their salaries and pensions. "How are we expected to work without being paid for months?" questioned the union's leader, Insaaf Ali Lashari.

Judicial commission orders removal of K-IV project director

The commission ordered the chief secretary via telephone to pay the salaries within two days to the staff of HDA and WASA. The judge ordered WASA's managing director to expedite the rehabilitation of the water filtration plants.