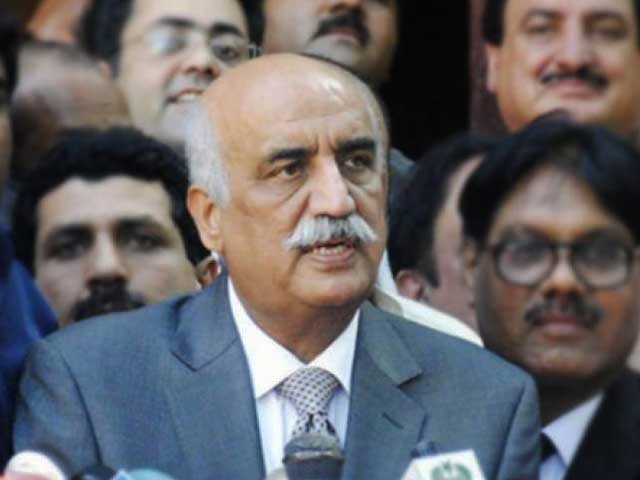 ---
The leader of the opposition in the National Assembly Syed Khursheed Shah has said that the judiciary is making important decisions for the country, but it is not appropriate for institutions to cross their limits, Express News reported.

Speaking in the assembly on Thursday, the Pakistan Peoples Party (PPP) leader stated that the country is standing at a point where even the US is rejecting visa requests from Pakistani nationals.

"We hosted 3.5 million Afghan refugees in Pakistan. Now they do not acknowledge us."

Shah also spoke on the current political crisis, saying that the judges are now giving orders as to what should, and should not, happen in Sindh.

People of Lodhran have rejected dynastic politics of PTI, says Khursheed Shah

"It is not good for one institution to overstep its limits," Shah said in reference to judicial decisions on prominent government officials.

Khursheed Shah lambasted the PML-N leadership for its failure to attend NA sessions, asking the speaker to note that former premier Nawaz Sharif only attended 14 assembly sessions.

"I am in my constituency in Sindh for three days a week, and despite that, I come to attend National Assembly sessions on a regular basis," he added.

Shah stated that the parliament was a supreme institution, underlining how in the era of the PPP government, ministers were actually answerable to the lawmakers.

Shah urges Shehbaz, Sana to step down

"When the prime minister is now aware of what is happening in the country, he has no right to be the head of government. If seasoned politicians fail to guide the country, where are the 200 million people supposed to turn to for help," the PPP leader remarked.

The leader of opposition was of the opinion that history will remember his advise to PML-N, in which Shah had urged former premier Sharif to give the parliament due importance.

"Under the previous [PPP] government, parliament galleries were filled to the brim because the prime minister was present in the hoouse. These days, they stand empty."

Shah said that even a lowly minister from the Modi-led government was issuing Islamabad threats now.

"We do not want a Pakistan like that. We want the Pakistan Quaid-e-Azam Muhammad Ali Jinnah envisioned."