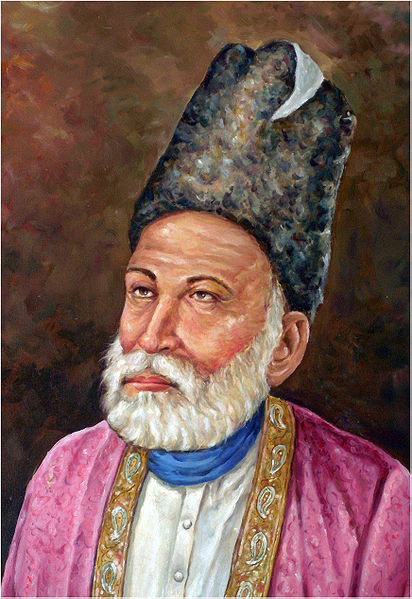 ---
The 149th death anniversary of the renowned Urdu poet Mirza Ghalib is being observed across the country today, according to Express News.

The famous poet was born December 27, 1797, in the Indian city of Agra. His father died while Ghalib was still only five, and the 'literary genius' was brought up by his uncle.

Google remembers Mirza Ghalib with doodle on 220th birthday

However, that union proved short-lived as well, as his uncle passed away four years later.

Mirza Ghalib was married to Amra Begum at the age of thirteen, after which he bade goodbye to the city of his birth for the comforts of New Delhi.

In 1850, the last Mughal Emperor Bahadur Shah Zafar tasked Ghalib with compiling together the history of a prominent Indian family, and fixed his monthly stipend at Rs50.

This 'government pension' stopped coming through after the 1857 war of independence against British rule, and the poet contacted Nawab Yusuf Ali Khan for help. The Nawab responded by pledging a monthly sum of Rs100 for Mirza Ghalib for as long as the poet was alive.

The secret to the poetry of Mirza Ghalib lay not only in its prose and beauty but in his deep understanding of the human psyche and the simple facts of life, which he laid out for the general public through numerous famous writings.

Ghalib's reign continues

Ghalib witnessed the fall of one of the greatest Muslim empire in the history of the world and also saw the rise to power of an imperial force in New Delhi.

People often say that sub-continental poetry before Ghalib focused on topics like love and intimacy, but Mirza Ghalib was the first poet who tackled social, political and controversial issues in his work.

The famous poet breathed his last in New Delhi on February 15, 1869. For as long as the Urdu language lives, Ghalib's name will live on in history.
COMMENTS (1)
Comments are moderated and generally will be posted if they are on-topic and not abusive.
For more information, please see our Comments FAQ