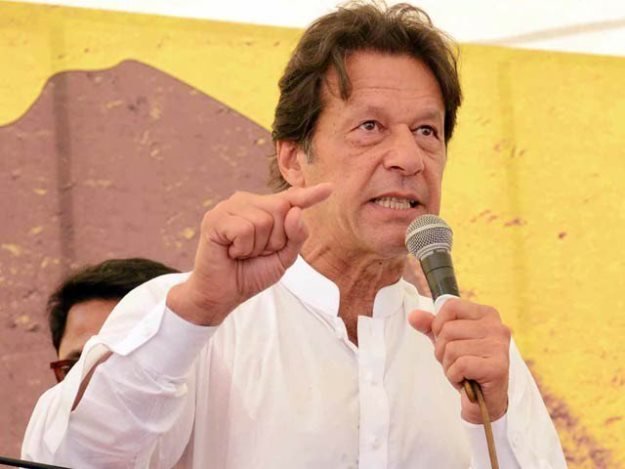 ---
Pakistan Tehreek-e-Insaf chief Imran Khan on Thursday filed two applications in an anti-terrorism court in Islamabad, for acquittal and exemption of appearance in hearings pertaining to the 2014 parliament and Pakistan Television (PTV) attack cases.

Babar Awan, counsel for Imran, didn't appear in court today, and the arguments for and against the applications will be heard as the case proceeds. The court has been adjourned till February 26.

ATC grants bail to PTI leaders in PTV, Parliament case

While addressing the media outside the court, Imran stated that former prime minister Nawaz Sharif is pressurising the judiciary and courts to grant him a National Reconciliation Ordinance (NRO). "Nobody is above the law," he added. "The sanctity of law shall be upheld in the country."

Imran believes those who are pretending to be victims are in fact the mafia of corruption. He also believes that the country's foreign policy failed as Pakistan's name is put under the Financial Action Task Force (FATF) global terrorist financing watchlist which raises questions over the government's credibility.

Imran also alleged that the Pakistan Muslim League-Nawaz (PML-N) used funds during the Lodhran by-election. "I am confident that they are corruption mafia. But kudos to Ali Tareen for slogging it out and bagging 91,000 votes," he said.

"I'm an ordinary citizen, while Nawaz Sharif is a Mughal King," the chairman said.

'Rookie' candidate failed to woo voters in Lodhran by-poll: Imran Khan

"People are supposed to vote, while the judiciary is supposed to uphold justice. But PML-N is only pressurising on the courts to get a hold of another NRO," he concluded.

Political leaders and over a hundred workers and supporters of the PTI and the PAT were booked in the cases.


Shocking how PMLN govt has failed to counter the Indian narrative against Pak in the context of the FATF created to enforce the UN list of proscribed orgs & actions ag terror financing. This is a complete failure of PMLN's foreign policy & diplomacy.

— Imran Khan (@ImranKhanPTI) February 15, 2018
The result is that before mtg in Paris in a couple of days, the US-sponsored Resolution ag Pak has now gained support from UK, France & Germany. Despite the Yadhav arrest & revelations on India's terror network & financing in Pak, PMLN govt has failed to counter Indian narrative. https://t.co/BFrkTm423F

— Imran Khan (@ImranKhanPTI) February 15, 2018
The PMLN govt has had no cohesive, proactive foreign policy and diplomacy to project Pak's case effectively bec it is solely focused on Sharif's "mujhe kyun nikala" narrative to the exclusion of national policies. https://t.co/54XP9guAhC

— Imran Khan (@ImranKhanPTI) February 15, 2018
COMMENTS
Comments are moderated and generally will be posted if they are on-topic and not abusive.
For more information, please see our Comments FAQ