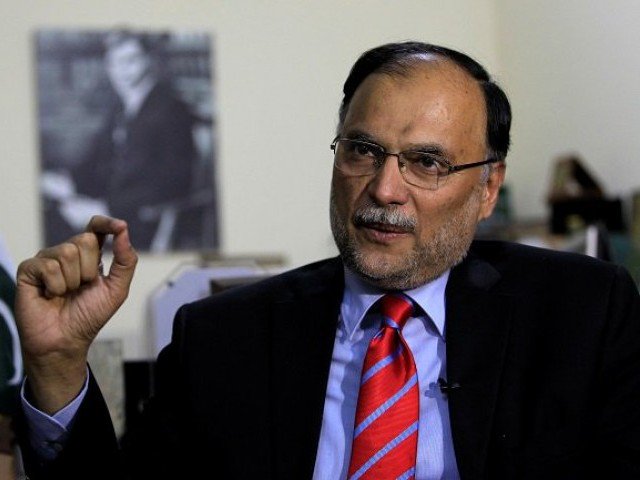 ---
Interior Minister Ahsan Iqbal has warned that any attempt by the United States to strong-arm Pakistan into submission would be counterproductive.
"Any unilateral action by the US in Pakistan will not only bring the bilateral relations to an irreparable stage, but also be counterproductive," Iqbal told CNN on Tuesday.
This, he stressed, will be a red line for Pakistan as the countrymen are dignified and want their ties with the US to be based on mutual respect.
The minister reiterated that Pakistan has remained a victim of terrorism and the country has rendered innumerable sacrifices fighting it.
"There is not a country in the world that has made as many sacrifices and as much contribution towards fighting terrorism [as Pakistan] in the past years."
Iqbal further said that Pakistan has lost about 60,000 people and suffered $25 billion losses to its economy.
Pakistan will give a befitting reply to any conspiracy hatched against its interests, says Ahsan Iqbal
'Trade, not aid'
On military assistance, he said, "we are committed to fighting terrorism. The aid coming from the US is nominal."
Pakistan, the minister reaffirmed, is not fighting this war for aid, but for its people and their future.
He doubled down that "trade and not aid" is the priority of the country when it comes to relations with the US. "Islamabad wants to see the US as a development partner and not as a donor country."
The Trump administration has asked the Congress to approve $336 million of civil and military aid to Pakistan for the next fiscal year, saying the proposed military assistance will help defeat al Qaeda and the Islamic State group.
The total request is $10 million less than 2017 and links the assistance to Islamabad's action against alleged terror safe havens on its soil.
Iqbal said, "we [Pakistan] are the first country that faces the cost of instability [in Afghanistan] and we are the first country that gets the dividend of peace in Afghanistan".
"By pointing fingers, we [would] only let the destablisers win," he added.
COMMENTS
Comments are moderated and generally will be posted if they are on-topic and not abusive.
For more information, please see our Comments FAQ