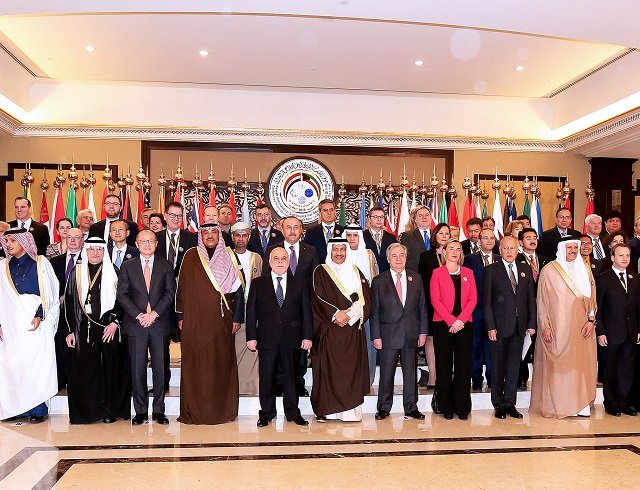 ---
KUWAIT CITY: Governments from around the world on Wednesday pledged billions of dollars in loans and investment for the reconstruction of Iraq, a nation reeling from a three-year war against the Islamic State group.

Iraq secured nearly $25 billion in the first few hours of the final day of an international donors' conference in Kuwait City, which was still ongoing.

Baghdad says it needs nearly $90 billion to rebuild after a grisly war with IS extremists which devastated homes, schools, hospitals and economic infrastructure, displacing millions of people.

The top contributors so far are Britain and Turkey, though each with its own stipulations.

Britain said it would grant Iraq export credit of up to $1 billion per year for a decade.

Turkish Foreign Minister Mevlut Cavusoglu said his country would provide $5 in loans and investment, without specifying the breakdown.

The Gulf states, led by host nation Kuwait, pledged $5 billion in investment, loans and financing for exports.

US not willing to contribute money for Iraq reconstruction, say officials

Iran's deputy foreign minister said that Tehran would contribute to stabilisation efforts through the private sector, without announcing a financial pledge.

Iraq said its 10-year reconstruction plan will cost $88.2 billion, of which $22 billion was required immediately.

Prime Minister Haider al-Abadi's government is hoping the international community will follow up the end of major combat against IS with concrete financial support for reconstruction.

But the call for investment came just days after an Iraqi court sentenced an Iraqi-American anti-corruption activist to six years in jail for defamation of state institutions.

On Wednesday in Kuwait City, Abadi sought to allay fears that funds would be lost to corruption, for which the country is notorious.

"We will not stop fighting corruption, which is not less than terrorism. In fact, it was one of the reasons for the rise of terrorism," he told the potential donors.

"Last week, we launched a string of measures to simplify procedures for investments," Abadi said, adding that Iraq's council of ministers had ratified international covenants aimed at protecting investments.

Throughout the three-day reconstruction conference, Baghdad has been on a drive to attract international investors to rebuild the country, offering hundreds of projects from oil refineries to massive housing and transport ventures.

Iraq banks on private sector for post-Islamic State reconstruction

Iraqi and World Bank officials on Tuesday talked up legal guarantees available in post-IS Iraq, pointing to an investment law that offers ownership, unlimited cash transfers and tax breaks, among other benefits.

The chairman of Iraq's National Investment Commission, Sami al-Araji, said investors in Iraq will find "high risks, but high returns".

UN chief Antonio Guterres on Wednesday sought to motivate donors, saying it was incumbent on the international community to back Iraq after its sacrifices against the extremists of the Islamic State group.

"The whole world owes you a debt for your struggle against the deadly global threat posed by Daesh (IS)," Guterres said, in comments directed at the Iraqi delegation.

"It is time to demonstrate our lasting gratitude and solidarity with the Iraqi people," he said.

Guterres highlighted two key UN-backed initiatives, for which he was seeking support.

"The UN Development Programme's Funding Facility for Stabilisation is working in 25 cities and districts, supporting the return of displaced people to their homes," the UN chief said, adding that 2.5 million remained displaced.

He also announced a new, two-year Recovery and Resilience Programme.

"It aims to make immediate and tangible improvements to people's daily lives, rather than the long timelines associated with major infrastructure projects and economic reforms," he said.

Kuwait, which was invaded by Iraq in 1990, was the first country to make a pledge to the reconstruction fund.

Kuwaiti Emir Sheikh Sabah al-Ahmad Al-Sabah said his country was acutely aware of the extent of the destruction caused to its neighbour when IS occupied parts of its territory.

"Reconstruction is not something Iraq will be able to undertake on its own, and that is why we are appealing to the international community," he said.