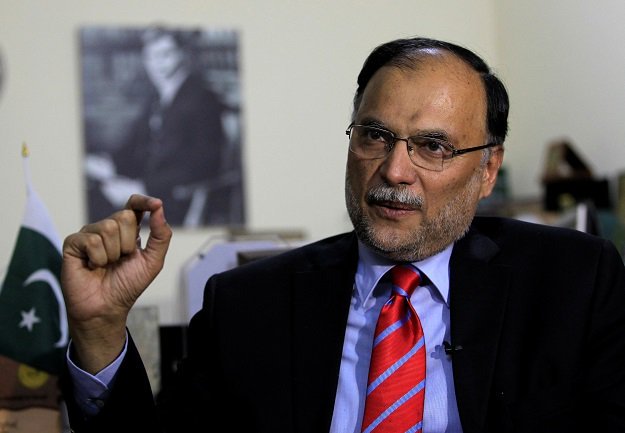 ---
LONDON: Minister for Interior Ahsan Iqbal has said that Pakistan is the most suffered country in the war against terror.

While speaking to CNN, the interior minister said Pakistan lost 60,000 of its citizens and suffered an economic loss of more than 25 billion dollars. But in return Pakistan only received nominal aid from US.

Ahsan Iqbal said Pakistan fought the war against terror for the security of its people and not for US aid and the country wants trade and not aid from US.

Iqbal laments lag in progress

Ahsan Iqbal observed that Pakistan and Afghanistan are geographically connected and it is necessary for peace in Afghanistan that Pakistan and United States work together.

Pakistan is the only country which is bearing the brunt of instability in Afghanistan and is blamed for its security failure, he added.

The interior minister said a comprehensive strategy is needed for establishing peace in Afghanistan and mutual cooperation between the two countries is inevitable for peace in the region.

For this purpose, the United States will have to see South Asia and Afghanistan with a different perspective.

Tharparkar set to become Pakistan's energy capital: Iqbal

Iqbal said both Pakistan and United States enjoy long term relations. Pakistanis are a dignified nation and want ties with US based on mutual respect.

The interior minister said Pakistan will act befittingly to any conspiracy hatched against its interests.
COMMENTS (1)
Comments are moderated and generally will be posted if they are on-topic and not abusive.
For more information, please see our Comments FAQ