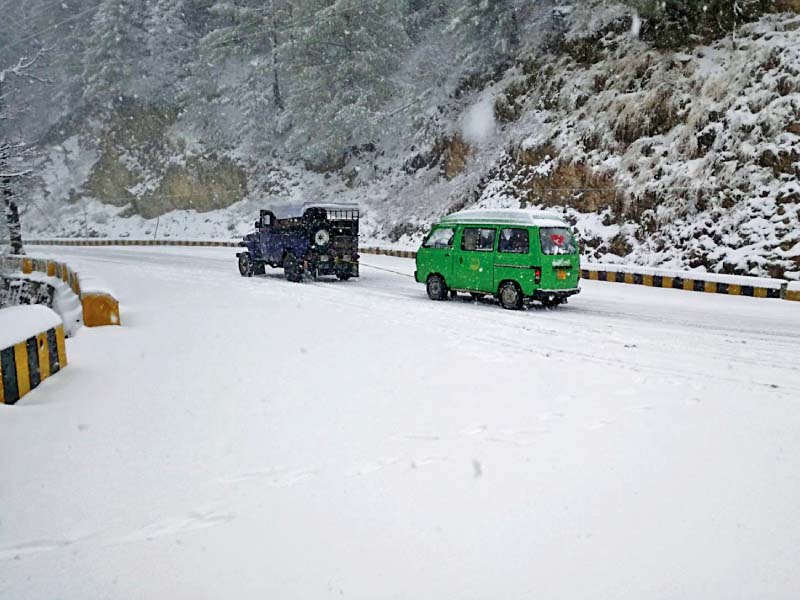 ---
PESHAWAR: At least three people, including two children, died due to severe weather conditions in Khyber-Pakhtunkhwa (K-P).

Snowfall combined with heavy rains was experienced all across K-P. Tourists were stranded in the Hazara Division as roads were blocked in the Galiyat area. The provincial government issued a warning to avoid certain areas and take the necessary precautions to stay safe.

Last night, a one-year-old died and his parents were injured in Mardan, when the roof of their house caved in, the Provincial Disaster Management Authority reported. The child was identified as Husnain. The incident took place on the eve of February 12 in the Bageecha area of Shahbaz Garhi.

Pakistan Metrological Department (PMD) on Tuesday informed that three to four spells of rainfall are expected during the month of February, 2018 and amount of precipitation would be less during the first half as compared to the second half. First spell of widespread rains (Snowfall over the hills) occurred across Khyber Pakhtunkhwa.

Rainfall in the last 24 hours (mm) has been recorded as: Malamjabba 66, Dir 63, Cherat 46, Lower Dir 45, Saidu Sharif 43, Kakul 34, Balakot , 31, Mirkhani 27,  Parachinar, Pattan 25, Peshawar (City 21, A/P 19), Kalam 13, Drosh 12, Chitral 08, Bannu, Risalpur 04.

Snowfall in last 24 hours (inches): Malamjabba 30, Kalam 07, Dir 06.

Last night in Mardan due to heavy rainfall, a roof collapsed in Bagheecha Dehri, resulting in a baby child's death on spot while his parents sustained injuries. DDMO Mardan rushed to the spot and took part in the relief activities.

In Peshawar on Tuesday it was reported that due to rainfall, roof of a house at Lal Kurti, Peshawar Cantt; resulting in the death of two people on the spot while one person sustained injuries. The injured was shifted to the hospital. DDMO Peshawar is monitoring the situation and relief activities are in progress.

Road situation in Abbotabad as per report states the snowfall continued in intervals in Galiyat / adjacent hilly areas of the district and upto now at 04:30PM, the thickness reached around 1.5 feet and most of the roads in Galiyat area are closed for general traffic.The snow clearance work is under progress by KPHA near Barrian and Kala Bagh, while C&W department is deploying machinery to Samundar Katta and Thandiani. The machinery of GDA is also present but the snow clearance work will start as & when the snowfall ends.

In Malakand torrential rain in plain and snowfall in hilly areas has been reported. No untoward incident has been reported from any part of the region. The snow clearance work will be started as and when the snowfall ends.

PDMA-KP'S RESPONSE:

Provincial Emergency Operation Centre (PEOC) of PDMA-KP put on high alert round the clock 24/7 as usual upon receiving the weather advisory from PMD on 09.02.2018 regarding the risks of Snowfall / widespread rains in Khyber Pakhtunkhwa. PDMA-KP shared emergency landline numbers of PEOC with the community through electronic & print media and mobile operators. PDMA-KP was constantly in close coordination with all stakeholders i.e. NDMA, district administrations and line agencies.

After long dry spell, twin cities finally get a shower

In Peshawar's Lal Kuri area, the roof of another house collapsed on four victims, according to the rescue 1122 officials. Abdul Jamil, 55 and son Umar, 8 died under the debris while his wife and another son were taken to the Combined Military Hospital (CMH).

Pools of rainwater at the Bus Rapid Transport (BRT) construction site in Peshawar made it impossible for people to walk. Traffic also remained slow-paced, leaving commuters almost immobile.

In Chitral, the Lowari Tunnel was closed due to excessive snowfall on both sides of the tunnel, causing authorities to fear an avalanche.

According to the Pakistan Meteorological Department (Met), the westerly wave which has entered Pakistan will persist on Tuesday.