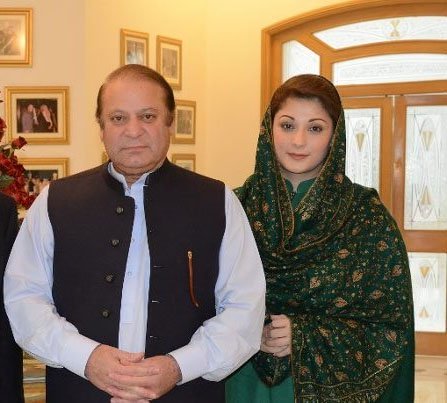 ---
ISLAMABAD: Deposed prime minister Nawaz Sharif said many things on Tuesday without naming any person or institution. His selection of words and events he talked about, however, left little doubt about the apparent addressee – Supreme Court, the former President General (Retd) Pervez Musharraf and others.

Nevertheless, the PML-N president celebrated victory in Lodhran's by-election, saying it was an answer to false cases and 'the revenge in the name of accountability'.

The three-time former prime minister said people living in cities and villages "have now understood the concept of sanctity of vote".

He also took a jibe at authorities for not issuing contempt notices and punishing those who abrogated the Constitution twice. Meanwhile, Sharif just laughed and did not respond when asked about Chaudhry Nisar Ali Khan's recent statement.

Sharif said that National Accountability Bureau (NAB) did not have evidence to establish interim references and added that was why the bureau was filing more references.

In his talk outside the accountability court, he said those who prepared and sent the references through NAB against him wanted to see him punished by any means necessary.

"It seems there is nothing in these references and if there was any substance in the interim references," he said, "NAB would not have filed supplementary references."

Sharif added that interim references have been 'repackaged' and filed as supplementary references while asking how many supplementary references would be filed, how long will this practice continue and why.

Al Azizia case: Nawaz Sharif fails to appear before NAB

"This is revenge in the name of accountability," he said while referring to the NAB's references.

"They will succeed only when Nawaz Sharif is sentenced … if Nawaz Sharif is not punished all their efforts will go in vain."

"This all is very unfortunate," he said, adding he was glad that people were giving response to their actions.

Whatever you saw on February 12 in Lodhran, he said, was an answer to false cases and 'revenge in the name of accountability'.

"People are fighting my case and I salute them … you saw the public reaction yesterday and I hope they would continue fighting my case," he said.

Two more witnesses testify in NAB reference hearing against Sharif family

To a question why revenge was being taken from him, Sharif quipped even he did not know but it was continuously being taken.

In addition, Sharif said he was facing the cases and was not afraid.

In a thinly veiled reference to Musharraf, Nawaz said a pseudo-case was filed against Musharraf and neither he was arrested nor allowed to be arrested.

And later, Sharif said, he 'fled' the country.

The former prime minister added that the acts of one who imposed martial law twice and arrested judges seemed acceptable and being tolerated.

"No contempt and no punishment for him," he said, adding all force was being used against people like him and they were being presented like the biggest culprits.

"The accused, who abrogated the Constitution twice and arrested judges has not been arrested," he said, asking why authorities were reluctant to take action against him.

"How long will these double standards continue?" he asked.

To a question if a new charter of democracy was needed, Sharif said, "Everything will be fine if the last one is put into practice."

He expressed his dismay over the fact that political leaders did not abide by the previous charter of democracy.

Court proceeding

Meanwhile, Accountability Court Judge Muhammad Bashir has fixed February 22 for recording statements of two foreign witnesses through video link in the NAB's supplementary reference against the Sharif family in the Avenfield Apartments case.

Also, the Sharif family has filed an application, seeking a fortnight's exemption from personal attendance from February 19 onwards on the grounds that the former First Lady's treatment is in final stages and the family needed to be with her in London.

The court has directed the NAB director general to explain reasons of delay in filing the supplementary references in the Flagship and Al-Azizia cases.

The court would hear arguments on the exemption application on Feb 15.
COMMENTS (1)
Comments are moderated and generally will be posted if they are on-topic and not abusive.
For more information, please see our Comments FAQ