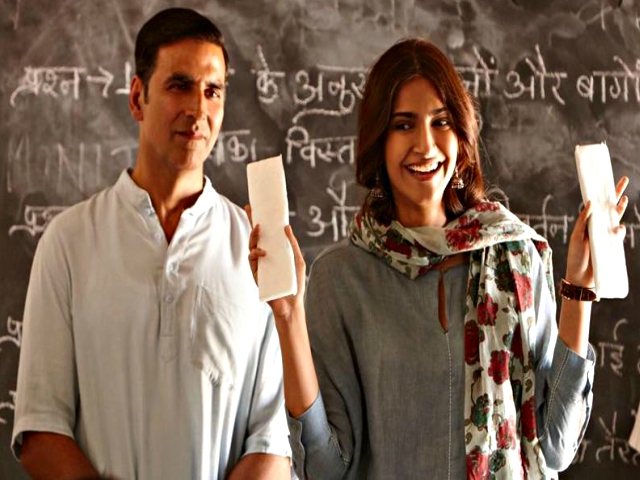 ---
DUBAI: SPOILER ALERT!

Pakistan's censor board has not yet allowed the Bollywood film PadMan to be screened. Starring Akshay Kumar, Radhika Apte and Sonam Kapoor, the film is written and directed by R Balki. The story is based on the life and achievements of Arunachalam Murugunatham, a social entrepreneur who rose to fame by creating a low-cost sanitary-napkin-making-machine for his wife, Shanti. While there have been allegations of plagiarism against the film-makers by a young writer, Ripu Daman Jaiswal, and the story itself relies mainly on Murugunatham's own life story – Padman definitely deserved to be released in Pakistan due to its strong message and powerful conclusion.

Lakshmikant Chauhan (Akshay Kumar) is a man who loves his wife Gayatri (Radhika Apte) very much. The film opens to him happily walking around the holy fire to ceremonise their marriage and soon tells the audience how during the menstrual cycle, Gayatri is sent to the corner of her home, where she uses a dirty rag cloth for her menstrual hygiene.

https://www.instagram.com/p/BfC-qPGB4rI/?taken-by=padmanthefilm

Lakshmi sees this and is appalled that she is using a rag he wouldn't even use to clean his bicycle. Lakshmi, borrowing from his experience at the steel and building workshop that he is employed at, along with his genuine smarts, fashions a sanitary napkin filled with cotton for his Gayatri. His attempts fail and he keeps trying much to the dismay of his family and acquaintances. There are numerous dialogues in the film which allude and direct the audiences' attention to the stigma and taboo surrounding menstrual health and the overall sexist practices that surround female troubles.

Despite Lakshmi's repeated attempts, he is unable to get through to his community members and is ultimately shunned from the village. Sonam Kapoor plays Pari Walia who incidentally crosses paths with Lakshmi and helps him reach out to rural women who were not receptive to Lakshmi offering them sanitary napkins.

https://www.instagram.com/p/Be-ijpShqQy/?taken-by=padmanthefilm

Arunachalam Murugunathum in one of his talks said, "Why do people make billions of dollars and come towards philanthropy? Why not do philanthropy from day one?" Murugunatham also stated that only two% of women in India do not use sanitary napkins – instead they use rag cloths. In such a state of affairs, PadMan is an important film that teaches many men and women the importance of menstrual hygiene. The film is paced effectively in this regard. It does not lose momentum and does not stray from its original message.

Akshay Kumar is empathetic, kind and compassionate in his portrayal of a man on a mission. Radhika Apte fulfills her role as the helpless wife and her role is written very well – a woman in her position has little to no choice when it comes to ventures such as these. Another critical highlight of the film is the taboo around sanitary napkins – while women celebrate in secret a little girl reaching puberty, they suffer in silence every month and are under threat of many diseases, they are not allowed the space or the platform to voice these concerns. On the contrary, their suffering is priced at numbers that are absolutely unaffordable. One in five Indians is poor – therefore using a sanitary napkin is simultaneously a taboo and a luxury. In one scene, Gayatri tearfully says to her husband, "A woman's shame is the greatest illness".

https://www.instagram.com/p/Be2-k13BBaV/?taken-by=padmanthefilm

Peppered with some emotional scenes that allow you to feel for the heartbreak that Lakshmi suffers at the hands of his family and community, the struggle for fulfilling his dream of creating a cheap and effective sanitary napkin for his wife, the film evokes a conversation and emotion for the many women who undergo the pain and the agony of the taboo along with the physical challenges of menstruation.

Kumar's portrayal is the highlight of the film and Apte provides the due support for emphasising the pressures of society and the unmentionable issues faced by the women who quietly exist in the middle to low socioeconomic strata of India. Kapoor is cast fittingly as the urbane and generous voice in Lakshmi's life, and refreshingly, there is no spark or chemistry between her and Kumar!

https://www.instagram.com/p/BexoF-VhvLI/?taken-by=padmanthefilm

It is deeply unfortunate that PadMan has been banned in Pakistan and that Pakistani censor boards did not allow it to release yet – for even in Pakistan, menstrual health needs a conversation and the taboo around it is huge. 79% of women in Pakistan do not manage their menstrual health in a hygienic way. Most of that is due to lack of focus by society and pressure groups about this extremely important topic. Banning Padman in Pakistan would surely add to silencing one more way in which this exchange and acceptance of women's health issues is happening in our societies. Padman makes an important social comment and it is one that is not to be missed at any cost.

Have something to add to the story? Share in the comments below.