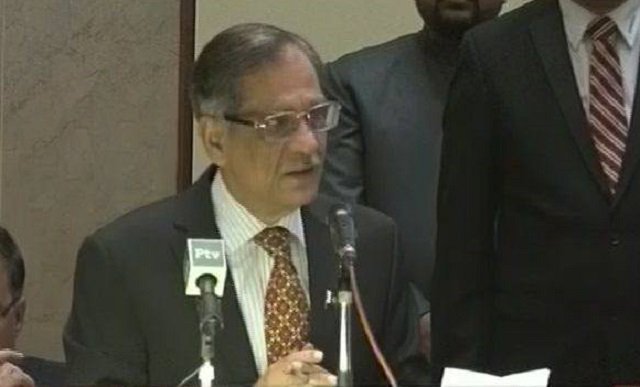 ---
ISLAMABAD: Chief Justice of Pakistan Mian Saqib Nisar has observed that democracy should not operate like a monarchy.

A three-judge bench headed by the CJP hinted at referring a matter regarding the appointment of former Pakistan Television (PTV) chairman Ataul Haq Qasmi as managing director (MD) to NAB.

The bench expressed disappointment at the manner in which Qasmi was appointed PTV chairman and later given additional charge of MD.

CJP satisfied with Punjab police's performance

The CJP questioned whether a king was running the country. "Democracy should work by the law, therefore, we will ensure rule of law in the country."

"We have two options. Either we should deeply examine the matter or refer the case to NAB", he said. He noted that the case appears to be in NAB's domain. The bench wondered how a writer could run the management of an institution. The bench asked NAB special prosecutor Imranul Haq to examine the matter.

During the hearing, former Information Minister Pervez Rasheed and Principal Secretary to the Prime Minister Fawad Hassan Fawad also appeared before the bench. Rasheed submitted that the appointment of Qasmi was made on his recommendation to revive the glory of past, adding that Qasmi had successfully managed Alhamra Arts Council for last eight years. Upon this, the CJP asked whether he worked in Alhamra Hall during PML-N regimes.

He also instructed Rasheed to be careful while giving his statement as he is a senator and the court may examine the matter related to illegal appointment in view of Article  62 (1) (f) of the Constitution.

SC fines AGP Rs20,000 for missing hearing of disqualification case

The court asked all relevant respondents to submit their concise statement regarding the alleged illegal appointment of Qasmi. The bench also warned that if the appointment is ruled to be illegal, the court may direct all responsible persons to deposit Rs278 million.

The bench has also sought Qasmi's tax returns for the last ten years. Fawad told the bench that the PM did not approve the summary regarding the appointment of Qasmi. Ayesha Hamid, the counsel for Qasmi, informed the court that her client is being defamed by reports that he received Rs270 million as his actual salary was Rs1.5 million. The hearing of the case was then adjourned for one week.
COMMENTS
Comments are moderated and generally will be posted if they are on-topic and not abusive.
For more information, please see our Comments FAQ