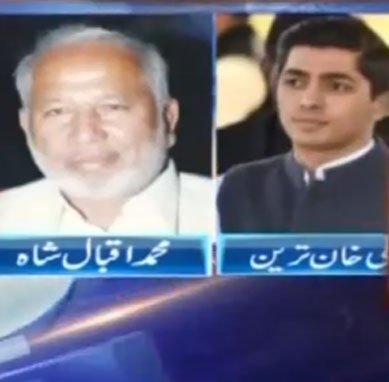 ---
LODHRAN:
In a major setback ahead of the June 2018 general elections, the Tehreek-e-Insaf (PTI) on Monday lost the National Assembly by-election in its stronghold, the Lodhran district of Punjab, to its archrival, the Pakistan Muslim League-Nawaz (PML-N), with a considerable margin.
The seat, NA-154, had fallen vacant in December 2017 when the Supreme Court disqualified PTI's Jahangir Tareen, declaring him 'dishonest'.
Jahangir Tareen, PTI's former general secretary, had won the seat in a by-poll in December 2015 by securing 129,606 votes against 93,183 of PML-N's Siddiq Baloch. The PTI had fielded Ali Tareen to win back the seat his father lost due to disqualification by the top court.
However, Ali Tareen was overwhelmed by PML-N's Peer Iqbal Shah, who, according to unofficial and unconfirmed results, bagged 116,590 votes.
Ali Tareen got 91, 230 votes – nearly the same that Siddiq Baloch of the PML-N had secured in the Dec 2015 by-election against Jehangir Tareen.
Imran reminded to adhere to ECP code of conduct as Lodhran by-elections loom
The third position in the latest by-election was secured by an independent candidate who got 10,212 votes while Mirza Mohammad Ali Baig of the Pakistan People Party (PPP) candidate received only 3,175 votes.
After announcement of the unofficial result, PML-N supporters came out on roads in Lodhran to celebrate their victory.
The PML-N leader and deposed premier's daughter Maryam Nawaz took to Twitter to congratulate the people of Pakistan on the 'divine' response to the 'treachery and plotting'.
PTI chief Imran Khan accepted his party's defeat as he called the 'setback' an opportunity to analyse mistakes, correct them and come back stronger.
"Successful people, institutions & nations learn from their failures. The 2018 election is ours, InshaAllah" he said in social media posts.
On Monday, the polling at the constituency started at 8am and continued till 5pm without any break. Strict security arrangements were made for the by-poll with Pakistan Army troops deployed in and outside the polling stations. The army personnel were given special powers of first class magistrates.
Army gets magisterial powers for Lodhran by-polls
Media persons were not allowed inside the polling stations. Mobile phones were not allowed either in the premises of polling stations. The voting process remained largely peaceful with only a couple of incidents of altercation between workers of the PML-N and the PTI at polling station numbers 55 and 56.
According to the Election Commission of Pakistan (ECP), there were a total of 431,002 registered voters in NA-154 including 236,496 men and 194,506 women. A total of 338 polling stations were set up for the voters. At the by-poll, around 225,000 votes were cast with a turnout of 52%.
Jahangir Tareen and his son Ali Tareen cast their votes at the polling station 234. Talking to media both said the elections were held in a transparent manner and the Pakistan Army was managing the affairs very well. They, however, alleged that the PML-N was trying to carry out pre-poll rigging.
Tareen said nominating his son Ali as PTI candidate could not be called 'dynastic politics'. "Ali was nominated after consultation with PTI workers," he claimed.
PTI leader Firdous Ashiq Awan also visited various polling stations. She said the PTI was ready to accept election results.
Responding to a question, she said the PTI leadership would not have participated in election rallies in Lodhran if the ECP had delivered the notices on time. "The PTI is not contesting elections, but waging a Jihad," Awan said.
COMMENTS (6)
Comments are moderated and generally will be posted if they are on-topic and not abusive.
For more information, please see our Comments FAQ