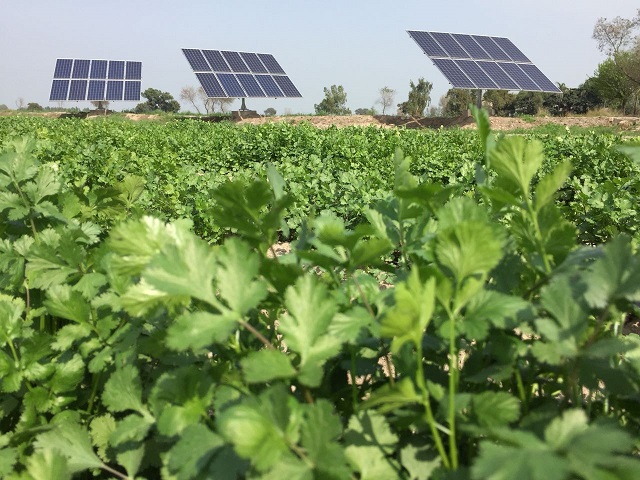 ---
LAHORE: Multinational fast moving consumer goods (FMCGs) companies operating in Pakistan are indirectly increasing their stakes in the livestock and agriculture sectors under the banner of corporate social responsibility (CSR) initiatives.

The initiatives are helping progressive farmers in adopting state-of-the-art practices in their farms to get better yields with minimum consumption of inputs.

Mustapha Yousaf, a banker by profession, quit his lucrative job in a prominent Middle Eastern bank and is now handling his forefathers' land by applying high-efficiency irrigation techniques.

"Selling organic products is a lucrative business, but to achieve customer satisfaction, you have to adopt all the required measures, including modern farming practices," Yousaf told The Express Tribune.

"Crops need an optimal environment to nourish. Unfortunately, in Pakistan majority of the farmers are still stuck with old methodologies which include using excess water for their crops," Yousaf said.

He blamed lack of information about best farming practices and low cost of irrigation, approximately Rs7,000 paid annually to government authorities by the farmers, for the excess usage of water.

According to experts, globally about 70% of water is used in agriculture. In Pakistan, the percentage stands at 90% with 50% of it being wasted due to poor irrigation methods.

Drip irrigation system is being used in modern economies, however, in Pakistan this technique has been adopted by corporate farmers only. As water scarcity is increasing at an alarming level, provincial governments including that of Punjab, in collaboration with multinationals, are taking measures to encourage farmers to adopt the drip irrigation methodology.

The Punjab Agriculture Department, along with Nestle Pakistan, is currently encouraging farmers to take up the methodology. The government is covering 60% of the cost while Nestle is providing 40% of the cost of installing the equipment.

"The company also provides its expertise as to how this technology can be used efficiently for saving water and ensuring greater yields," said Nestle's Sustainable Agriculture expert Mehboob Elahi.

Drip irrigation technology had been applied to 68 acres of land by the end of 2017, which helped in saving up to 140 million litres of water. By the end of 2019, it is hoped that 400 million litres of water will be saved by promoting drip irrigation over 185 acres of land.

Other high-efficiency irrigation methods, like different types of furrow irrigation and sprinklers based on the farmers' needs, were also being explored, Elahi stated.

A Nestle team has developed smart soil moisture sensors that read the moisture/water level of the soil and send regular data updates to a cloud from where the farmer receives information about which areas he should irrigate and how much.

Moreover, software has been developed with the help of an Italian organisation that enables the farmers and researchers to see the soil moisture level remotely on their computer screen. This helps save water and increase productivity by reducing the chance of under or over-irrigation.

Moreover, as the company's product line is increasing, it is now relying on using local raw material. Forty per cent of investment by the company in drip irrigation also allows obtaining quality raw products – in this case, spices which they use in one of its products.

"We are the buyers of the crop as we need spices to feed our products," Elahi said.

the writer is a staff correspondent



Published in The Express Tribune, February 12th, 2018.

Like Business on Facebook, follow @TribuneBiz on Twitter to stay informed and join in the conversation.