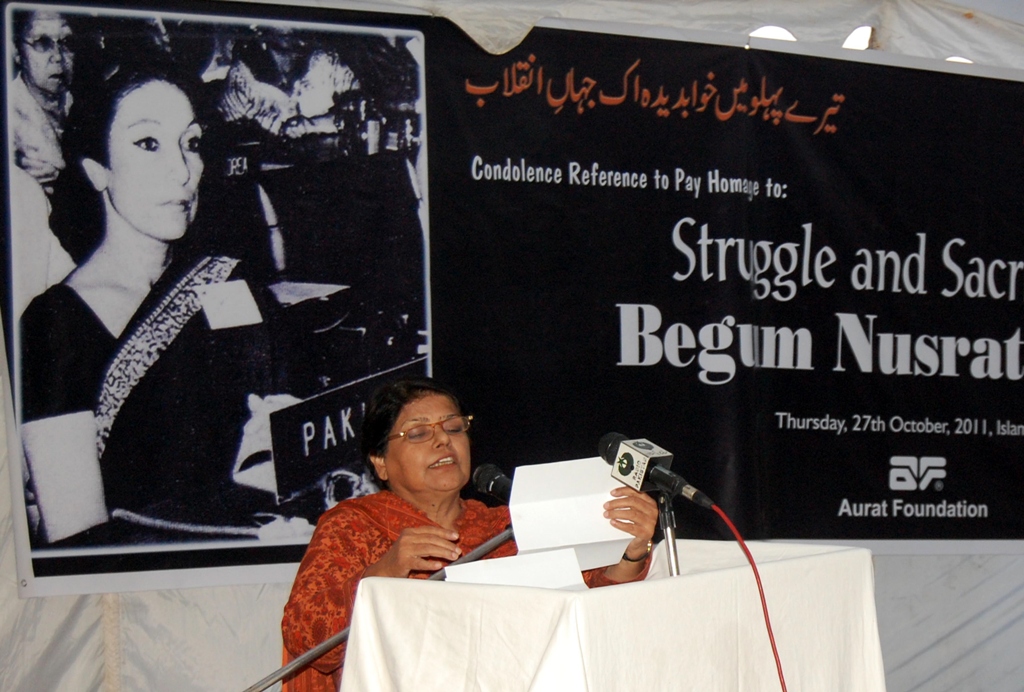 ---
KARACHI: Despite the fact that the female speakers had to be very brief in their speeches and responses as they were seven in number, the session 'Fiction has the Power to Affect Politics' at the Karachi Literature Festival on Sunday succeeded in bringing up various facets of the dynamics of the literature-politics relationship.

Dictators have always sent writers to prisons, said novelist Qaisra Shahraz, arguing that fiction affected politics. She reminded the audience of the old saying 'the pen is mightier than the sword'.

Shahraz referred to Jonathan Swift's 'Gulliver's Travels' and George Orwell's 'Animal Farm', which were allegorical works of fiction that were a satire to the politics of those times. In the Subcontinent, she mentioned Iqbal whose poetry not only derived its content from the socio-political landscape of his era but also had a profound influence over it.

"Writers come and go but their words remain alive and continue to have power to exert change," Shahraz said.

Bakhtawar serves legal notice to Syeda Abida Husain

Poet Kishwar Naheed focused on the interplay of poetry and politics. "Just one misra [poetic line] of Ghalib is enough to convey the political scenario of his time after the 1857 War of Independence," she said, reciting Ghalib's line, "Ik shama rah gayi hai so woh bhi khamosh hai [Only one candle remains and even that is extinguished]". Kishwar also quoted verses written by Faiz Ahmed Faiz and Saleem Shahid to protest martial law in the country.

Had there been no Dostoevsky, we would have never known tyranny suffered by local Russians, she said, emphasising the role of literature in preserving history.

The history which was recorded in previous eras was written by court historians, said the poet, adding that such history only gave information about royals. "It is from literature that we get to know about the history of laymen," Kishwar asserted.

Claire Chambers from the University of York based her speech on literature's involvement in the Arab Spring. She mentioned how Egyptian writer Alaa alAswany had correctly predicted Hosni Mubarak's ouster a year before agitation began at Tahrir Square in Cairo.

Habib University students launch anthology, say writing impacts history, society

"Fiction keeps the ground fertile for revolutionary thoughts to take roots," Chambers said.

Academic and activist from the United States Kesho Scott said fiction and politics went hand in hand. Many fundamental changes in human society took place due to fiction, she claimed. She cited Harriet Beecher Stowe's novel 'Uncle Tom's Cabin' whose publication resulted in wide scale abhorrence for slavery and eventually slavery was abolished.

People often did not fight when they were oppressed, Scott said, adding that they fought when they had new ideas and literature was the key source which provided people with fresh ideas.

Novelist Sarvat Hasin was of the view that the relationship between literature and politics was complex. She questioned the effectiveness of fiction in creating change in today's world as, according to her, the time period which a piece of literature normally took to bring some change was quite long in comparison to the rapid pace at which things had started to develop in today's world.

Hasin also suggested that writers should avoid being polemic while writing fiction. Fiction should not resemble political discourse, she said. Shahraz seconded Hasin's point, arguing that in the view that a small percentage of people read books, literature must not start governing politics.

Moderator of the session, Maniza Naqvi, added that readers should remain alert while reading fiction as it could serve as a tool to propagate hatred and racism.

Fostering tolerance, one video at a time

Educationist Arfa Syeda Zehra lamented that though literature had always taken lessons from politics, politicians were always reluctant to learn from literature.

At the end, the audience was asked through a show of hands whether or not it agreed with the proposition 'fiction affects politics'. The majority vote went in agreement with the proposition.