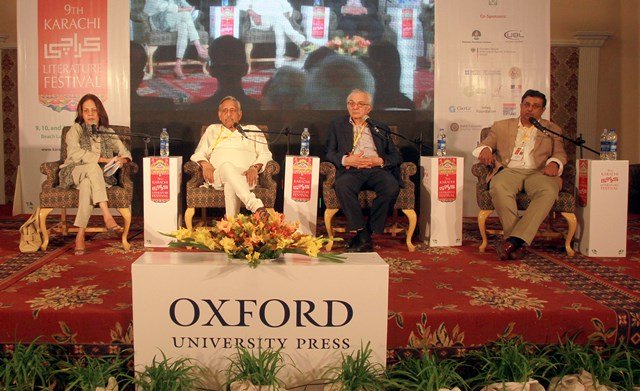 ---
KARACHI: It was a sombre start to a session on 'Love Thy Neighbour: India-Pakistan Relations' as Kishwar Naheed came and announced the death of activist and lawyer Asma Jahangir. The hall was shocked to hear about the loss of the rights activist icon as there was no parallel to her efforts to bring peace between the two countries.

Similarly, Indian politician Mani Shankar Aiyar is also a voice on the other side of the border calling for better relations between the two countries, and on Sunday he called for uninterrupted and uninterruptible dialogue between the two neighbours.

Aiyar, who has also served as the former counsel-general of India in Karachi, said, "There is only one way of resolving India-Pakistan issues [which is] by an uninterrupted and uninterruptible dialogue."

The diplomat turned politician added that Islamabad has accepted the policy of continuous dialogue but New Delhi has not. While talking about his role for bringing peace between the two neighbours, he compared himself to Sisyphus, saying that all he can do is to continue to push for dialogue like the Greek legend had to roll an immense boulder up a hill. He added, "I love Pakistan because I love India." He added that India should "love thy neighbour as thyself".

'Pakistan needs institutional reforms to grow like China, India'

Aiyar also said when it comes to normalising relations between Pakistan and India, the former had improved drastically in its approach to its neighbour. He added that India has changed but very marginally.

The Congress party politician identified 'Kashmir' and 'India directed terrorism' as the two main issues between the two countries. For Kashmir, he suggested that New Delhi and Islamabad should go back to the framework that was being formulated during former president General (retd) Pervez Musharraf's tenure. He added that if talks continue on that framework, then both sides will be able to reach an agreement in as little as four minutes as it was already developed in three years.

While talking about 'terrorism' directed towards India, Aiyar said, "You have concerns that we must address and we have concerns that you must address." He added that the callousness must end and by not engaging in dialogue, the only victors are the terrorists.

Former diplomat Ashraf Jehangir Qazi also agreed with his fellow panellists saying, "Pakistan cannot achieve its goals by being in a confrontation with a country seven times its size."

India stops 200 Hindu pilgrims from coming to Pakistan

While talking about Kashmir, he said for 70 years Pakistan has had a short term policy and the issue can only be solved with a long-term perspective. He also urged that the Pakistani state must convey to India that it values the relationship it has with it and work toward resolving the enmity between each other. The former envoy said, "How can we have reconciliation if we don't accept their concerns," adding that the same goes for India.

Qazi said both countries need to tell their public frankly what the problem is, adding that to go into talks both countries do not need to back down from their demands. "India cannot ask Pakistan to change its position on Kashmir to go into dialogue and neither can Pakistan ask India to do that [on terrorism]."

On the other hand, economist Asad Sayeed said the relationship between the two countries is like conjoined twins who have fallen apart but are still living in the same house.

While talking about whether trade can be used as means of resolving issues, the researcher argued that trade should be seen independently, not as a method to mitigate the hostilities between the two countries. He said history does not show that increased trade will result in a change of hostilities.
COMMENTS (1)
Comments are moderated and generally will be posted if they are on-topic and not abusive.
For more information, please see our Comments FAQ