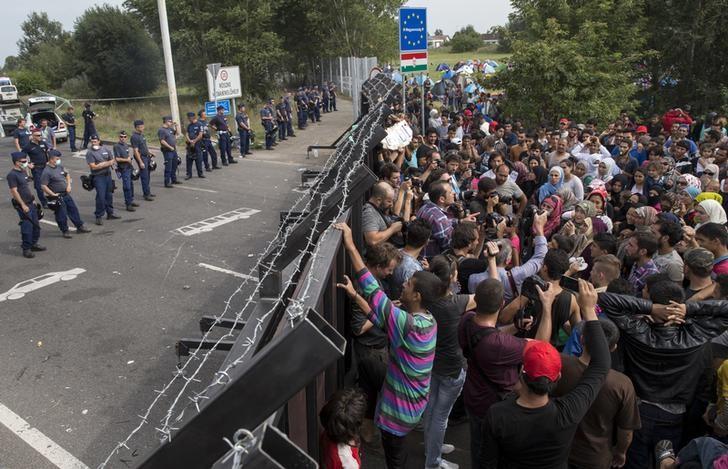 ---
KUALA LUMPUR: After decades of spending on infrastructure to develop poorer parts of Europe, the European Union must invest in migrants to avert a "nuclear bomb" of civil unrest, a top EU official said.

Armed with a war chest of 350 billion euros ($428 billion) to spend by 2020 on its so-called cohesion policy, the European Union is aiming to reduce inequality across the bloc - mainly by pumping money into countries in eastern and southern Europe.

"Social integration will be crucial in the years to come," European Commissioner for Regional Policy Corina Crețu told the Thomson Reuters Foundation this week at the World Urban Forum, the world's largest conference dedicated to cities.

90 migrants, mostly Pakistanis, believed dead in shipwreck off Libya

"If we allow ghettos or segregation of migrants, this will become a nuclear bomb in the future," the Romanian politician said at the gathering in Malaysia's capital of Kuala Lumpur.

The EU asylum system came close to collapsing in 2015 as a million refugees and migrants arrived by boat, overwhelming Greece and Italy. Poland, Hungary, Slovakia and the Czech Republic refused to take some of the new arrivals.

The dispute ended up in the courts and has weakened the bloc's unity, spilling over to other policy areas. European Union interior ministers are now grappling with the politically charged issue of reforming the bloc's asylum system.

Ex-communist states continue to defy pressure from other European capitals to accept refugees travelling across the Mediterranean which would ease the burden on frontline nations such as Greece and wealthy destination countries like Germany.

Crețu, who oversees the cohesion policy, highlighted recent investments on the frontlines of Europe's migrant crisis - from the purchase of two rescue boats for Italian authorities to a support network for mayors of cities wrestling with migration.

France, Britain to unveil 'new treaty' on migrants

When residents and migrants clash, "mayors are in the middle", Crețu said, citing the tiny Greek island of Chios, where arrivals of refugees and migrants have risen recently.

The European Union is using a new approach to measure inequality, which should give policy makers a better understanding of which areas are most in need, Crețu said.

"GDP per capita is not very accurate because it doesn't take into account these pockets of poverty unemployment."

While the cohesion policy's biggest achievements to-date have been in traditional infrastructure, basic needs have been neglected in many parts of eastern Europe, according to Crețu.

"We have still people who are dying because of the quality of water, because the networks were built 40-50 years ago."
COMMENTS (1)
Comments are moderated and generally will be posted if they are on-topic and not abusive.
For more information, please see our Comments FAQ