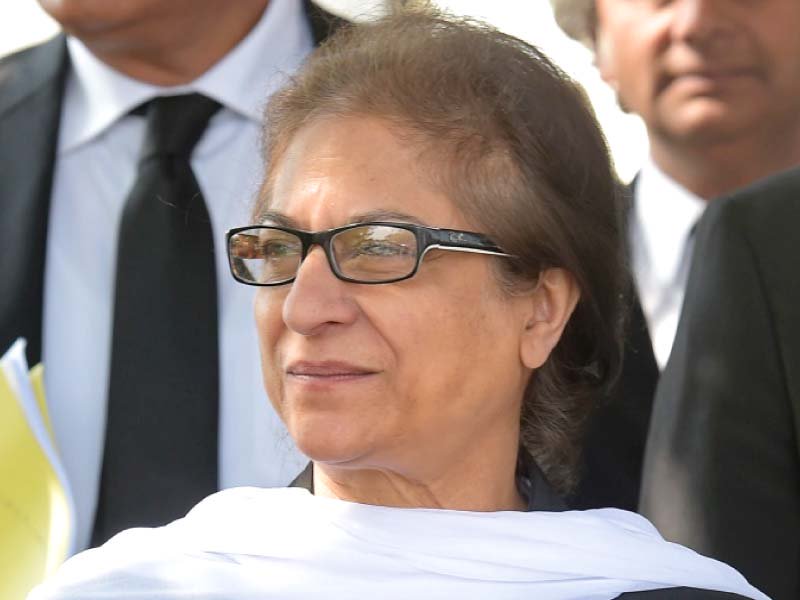 ---
ISLAMABAD: Dictators couldn't break her. Terrorists couldn't scare her. In the end, it was her own heart that took her.

Lawyer and rights activist Asma Jahangir died on Sunday after suffering cardiac arrest. She was 66. Her funeral will be held at Gaddafi Stadium on Tuesday, to allow relatives based abroad to return home. Born to bureaucrat Malik Ghulam Jilani and Sabiha Jilani in Lahore on January 27, 1952, Jahangir was best known for her pro-democratic and human rights activism. She is survived by her husband Tahir Jahangir, two daughters, and a son.

She attended Convent of Jesus and Mary in Lahore and later Kinnaird College, from where she earned a BA. She then went to Punjab University, from where she earned an LLB degree in 1978.

Jahangir held several prominent positions throughout her life and also holds the distinction of being the first female president of the Supreme Court Bar Association (SCBA). She was elected the 13th President of the SCBA and held the office from November 1, 2010 to October 31, 2011. She remained active as a lawyer throughout her life, as well as working for the welfare of the lawyer community.

Jahangir held a prominent position as a lawyer and human rights activist, especially for the rights of women and minorities in Pakistan. She was appointed the United Nations Rapporteur for Human Rights in Iran on September 30, 2016 and held the position till her death. She was also one of the founding members of the Human Rights Commission of Pakistan (HRCP) since it was established in 1987, and served as its Secretary General until 1993. That same year, she became HRCP's chairperson, but later resigned when she decided to contest the election for the SCBA presidency.

Jahangir's life-long struggle for democracy also led to periods of incarceration and house arrest. In 1983, she was imprisoned for participating in the Movement for the Restoration of Democracy during the regime of General Ziaul Haq. She was later put under house arrest during the Lawyers Movement in 2007.

Civil-military silence: Nation wants a civil government, says Asma

For her work, Jahangir has received many awards throughout her life including the 2014 Right Livelihood Award, 2010 Freedom Award as well as the Hilal-i-Imtiaz, Sitara-i-Imtiaz, Ramon Magsaysay Award, Martin Ennals Award for Human Rights Defenders, UNESCO/Bilbao Prize for the Promotion of a Culture of Human Rights and Officier de la Légion d'honneur by France.

HRCP Chairperson Dr Mehdi Hasan told The Express Tribune that since its inception, HRCP became known because of Asma Jahangir and her work. He said that she had a lot of contributions for the rights of women and minorities, and for democracy in Pakistan. "She had worked with courage all her life. She has introduced Pakistan as a state where human rights were valued".

He said, "I think people should know more about the many activists who have passed, who made contributions to this country. It is tragedy for Pakistan that those who die, the void left behind is not filled. This is because our system does not ensure their replacement".

"I will remember Asma Jahangir as a democrat and an excellent human rights activist," Dr Hasan added.

Lahore Bar Association (LBA) President Malik Arshad, a member of the Friends Group led by Jahangir, remembers her as a champion of human rights and "one of the most prominent women of Pakistan". He said, "In Pakistan, I think, after Benazir Bhutto, Asma Jahangir was the only internationally-known Pakistani woman. Outside Pakistan, she was the reason why the country had a positive image".

Malik Arshad said she remained steadfast all her life and stood by her principles in the toughest of circumstances. Even in the face of dictators, she never budged. "She was an iron lady and always sided with truth and justice". She also upheld the rule of law and struggled for it throughout her life.

"I think Asma Jahangir is one of few champions of human rights in this century. She also worked for women rights," he said, adding that she had dedicated her life to the welfare of the poor and always worked for their benefit.

As a senior lawyer and activist, Arshad said that she always took care of the legal fraternity, especially female lawyers, as well as encouraging young lawyers. "She has been at the forefront of numerous welfare programmes for the community and some of the things she did for the community was getting a lawyers' hostel built along with a housing society for lawyers," he added.


COMMENTS (20)
Comments are moderated and generally will be posted if they are on-topic and not abusive.
For more information, please see our Comments FAQ