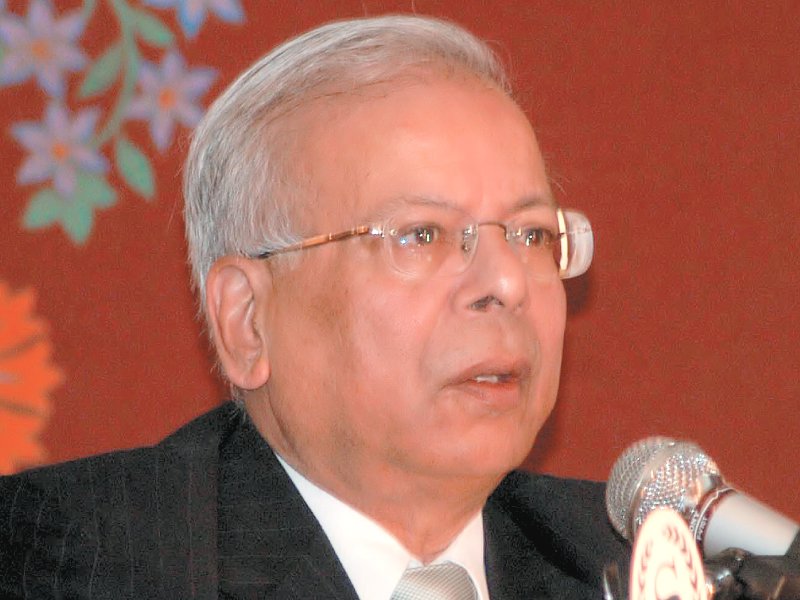 ---
KARACHI: Pakistan's low economic growth since 1990 is more to do with lack of institutional reforms rather than external factors like security issues and terrorism, said Dr Ishrat Husain on Saturday.

Speaking during his book launch at the 9th Karachi Literature Festival (KLF) which is being held at Beach Luxury Hotel, Husain said, "The rot had set in somewhere before 1990, which resulted in low economic growth later."

He pointed out that the data that he gathered for his book, 'Governing the Ungovernable: Institutional Reforms for Democratic Governance', suggests that Pakistan's high economic growth since its birth to 1990 was not just a coincidence.

Growth in Pakistan expected to pick up in 2018, 2019: IMF

Pakistan's economy faced too many challenges in the first four decades, including wars of 1965 and 1971, but it managed to grow over 6% on an average - higher than China and India.

Despite being involved in conflicts and losing East Pakistan in 1971, the country grew much faster than many leading countries. "For decades, Pakistan's economic growth was among the top 10 countries in the world and leading economic managers from around the world came to see our economic model," he added.

The former central bank governor said Pakistan can still become governable and grow like India and China, but for that the country needs to implement institutional reforms to break from its past of over 25 years.

Replying to a question, Husain said the current economic growth of 5.3% is not good enough for a populous country like Pakistan.

"I am not impressed with the current growth. I want to see Pakistan growing at least 7-8% for a sustained period to meet the challenges," he stressed.




On the second day of KLF, the book launch session drew a large crowd of academics, economists, bureaucrats, bankers and senior managers from different sectors.

Indian politician, who was the minister for petroleum and natural gas from 2004-2006, Mani Shankar Aiyar commented that populous countries, like Pakistan and India, need to decentralise their governing systems and devolve powers to the grass-roots level to improve governance.

"There is one way to improve governance and it is to let them govern themselves," said Aiyar.

India's former central bank governor from 2003-2008, Yaga Venugopal Reddy, better known as YV Reddy, also spoke at the event.

"No economic system is flawless; there is misgovernance in every system in the world," said Reddy. "We just have to evaluate the results that we get out of any system."

He said today every Indian state has its own model and each of them is engaged in continuous evaluation to make it better for the people.

Reddy said the new economic challenges, many of them have been discussed in this book like changes in different job markets, will mostly affect masses, therefore this book should be translated in Urdu and other regional languages so that masses read it and prepare themselves for the future.

In another session, which was organised earlier, former finance minister Dr Hafiz A Pasha said Pakistan's unemployment problem is not going to be solved by just providing technical training to its unemployed youth because the economy does not have the capacity to absorb them.

IMF says Pakistan can manage without its support

"We are wasting our resources to an extent that we are not even able to benefit from our educated people," he added.

Sustainable Development Policy Institute (SDPI) Deputy Executive Director Dr Vaqar Ahmed commented that there are 56 annual taxes in Pakistan - one of the highest in the world - that companies have to deal with.

To deal with problems like rising energy costs for the manufacturing sector, the government should lock the tariff structure for five years so that the investors can be sure of their five-year planning.

Published in The Express Tribune, February 11th, 2018.

Like Business on Facebook, follow @TribuneBiz on Twitter to stay informed and join in the conversation.
COMMENTS (2)
Comments are moderated and generally will be posted if they are on-topic and not abusive.
For more information, please see our Comments FAQ