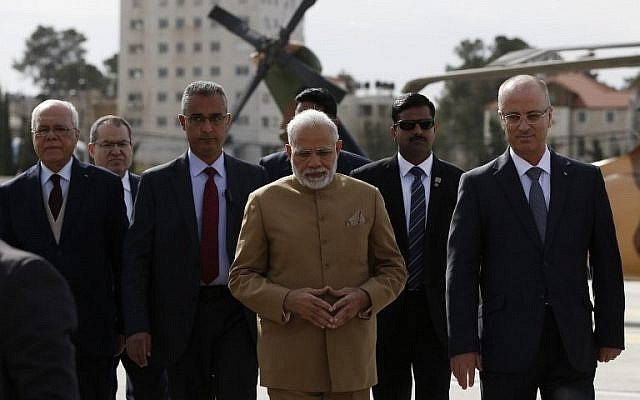 ---
Narendra Modi on Saturday became the first Indian prime minister to visit the West Bank for talks with Palestinian Authority President Mahmoud Abbas as part of a Middle East tour.

The visit, which comes weeks after Modi hosted Israeli Prime Minister Benjamin Netanyahu, is seen as an Indian effort to balance its strengthening ties with the Jewish state.

Modi and his entourage flew in by helicopter from Jordan, landing near Abbas's Ramallah headquarters, an AFP reporter said.

Modi set for 'historic' visit to Palestine

The Indian and Palestinian leaders were set to discuss issues including information technology, health and tourism during the brief visit, after which Modi will return to Jordan.

Upon arrival, Modi laid a wreath at the grave of Abbas' predecessor, Yasser Arafat.

Palestinian official Nabil Shaath said Modi and Abbas are to sign cooperation agreements worth $50 million.

In addition, a senior official told the press that Abbas will ask India's visiting prime minister to support a multi-country sponsorship that would replace the United States as the sole mediator in future Israeli-Palestinian negotiations.

Abbas has sought international support for replacing the US as sole Mideast mediator, after President Donald Trump recognized Jerusalem as Israel's capital. Abbas has so far failed to win such commitments from world leaders.

UN Palestinian agency faces 'existential crisis'

New Delhi has backed the Palestinian territories' quest for nationhood and Modi has voiced support for an independent state existing peacefully alongside Israel.

Modi became the first Indian leader in history to visit Israel in July last year, with the two states signing deals on cybersecurity and energy.

India's refusal to support US moves to recognize Jerusalem as Israel's capital disappointed Israel.

Modi's three-day tour will also take him to Oman and the United Arab Emirates.

India sources more than half its oil and energy supplies from the Middle East, and around nine million Indians live and work there, sending home billions of dollars in remittances annually.


Abu Ammar was one of the greatest world leaders. His contribution to Palestine is historical. He was a good friend of India. I paid tributes to him in Ramallah. pic.twitter.com/3E0bxCCSj5

— Narendra Modi (@narendramodi) February 10, 2018
This article originally appeared on
The Times of Israel
COMMENTS (1)
Comments are moderated and generally will be posted if they are on-topic and not abusive.
For more information, please see our Comments FAQ