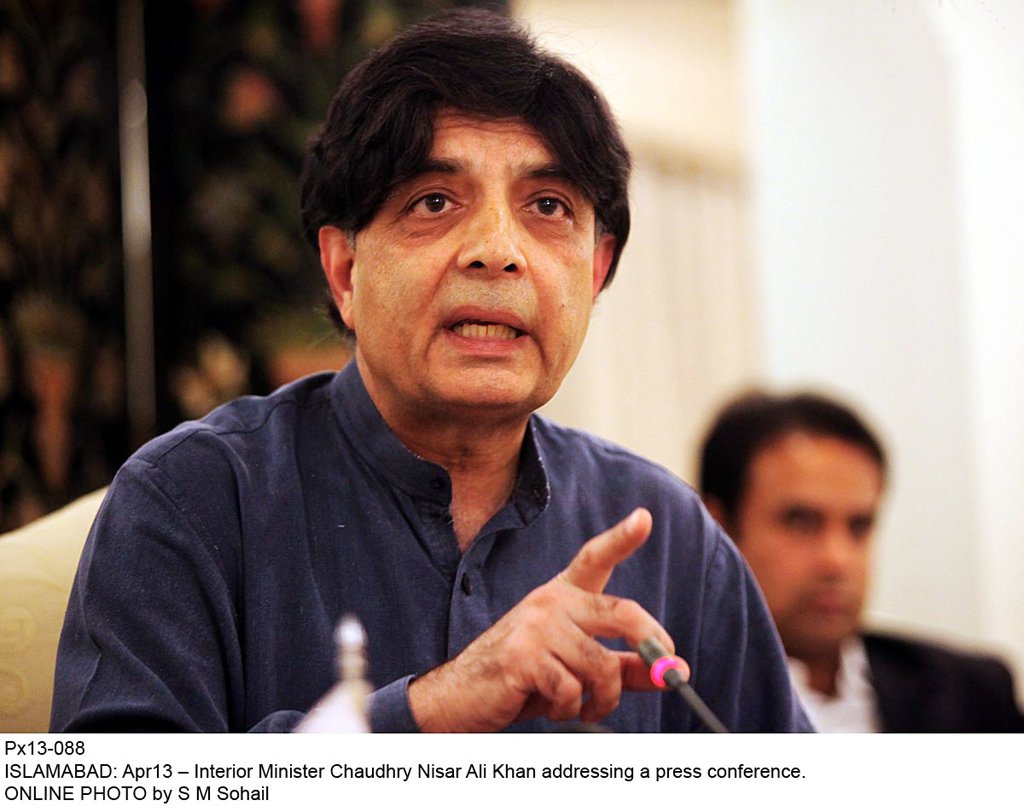 ---
Former Interior Minister and Pakistan Muslim League-Nawaz (PML-N) leader Chaudhry Nisar Ali Khan on Saturday said that he is ready to work under former Prime Minister Nawaz Sharif, Chief Minister Shehbaz Sharif but will not work under Maryam Nawaz.

Nisar brazenly said that he will not be hypocritical and will say things as they are. When asked about his earlier comment made on Maryam Nawaz being inept to hold public office, he remarked, "There are a lot of things said about me. When did I criticize Nawaz and Maryam? Till I stay in politics I will not be hypocritical. Someone asked me about Maryam in a TV interview and I replied saying exactly what I felt. They questioned if I can work under Shehbaz Sharif I said yes, asked about Nawaz Sharif I reaffirmed, however when asked if I would be able to work under Maryam I clearly replied saying no."

Nisar's take on on Maryam Nawaz's being given a party ticket was, "I believe a politician is someone who has fought an election, if they haven't run for elections they can be technocrats or anything but not politicians. Ticket decisions are made by parliamentary boards and that has not been decided yet by the PML-N. Everything will be decided constitutionally under the committee put forth by the party".

Clarifying his stance on multiple issues, Nisar at a media briefing in Taxila said that he is disappointed with the way the media has taken his words out of context with regards to Dawn Leaks and inner party friction.

"I have always adhered to party discipline and not opposed anything in part meetings unless absolutely necessary," he said.

Discussing the recent rift within Muttahida Qaumi Movement (MQM) he said that "the MQM should resolve its issues if they want to achieve political success".

Nisar also said that allegations leveled against Prime Minister Shahid Khaqan Abbasi are baseless.

Nisar bashes Iqbal for 'botched' Faizabad operation

"Without listening to me, one member bench made allegations against me without hearing me out.  The larger bench didn't own the commission report. I went to the Supreme Court myself and never asked anyone to keep quiet. I do feel that it is okay to question the reports but it is not okay to comment on judges," he said on the Dawn Leaks hearing.



Nisar on media, Dawn Leaks

Being the center of attention over Dawn Leaks, Nisar said that "I am disappointed with the way some media factions ran comments and statements with my name. I also wrote a letter to Nawaz saying party issues should be resolved within the party.

"A collective decision should have been made over Dawn Leaks. A third person who had nothing to do with the party came in said that they wanted to disassociate me with the party. I am waiting to see what the central executive committee of PML-N says. If things are not spread out by PML-N then I will publicly comment on two issues. Dawn leaks and the report that came forward with it."

Nisar said that its not a PML-N issue, it's a national issue and there are a lot of intricacies involved within. "I will just say that if I have thrown you (Pervaiz Rasheed) out of the party then let me clear that there was a seven-member committee which dealt with the issue and they could have taken the decision against what I wanted."

Nisar should be expelled from PML-N for mishandling Dawn leaks issue: Rashid

Expressing dismay over the way media often reports news Nisar said, "A lot of times I feel embarrassed addressing the media because they report incorrect things based on hearsay, it is a difficult task to clear it."

"Cursing, posing allegations is a daily deal for many now. There are a lot of positive factions within the media and they have enlightened the nation.

"I recount two major revolutions in Pakistan, one was brought forth by Zulfikar Ali Bhutto and the second is the openness and the change  media brought in Pakistan. But now I feel the catch and chase of media ratings has become a way of providing information which does not fit well. The media's core job is to report, not to be the judge. Sections of the media have been politicised heavily and as a Pakistani I feel that will damage the image of Pakistan," he said.

Giving his two cents on the same topic, Nisar said, "It is not an easy task to fix everything, I understand, however we should stop and assess the situation. We have to check ourselves first, media, institutions, politicians need soul searching right now, we have to clean up the system ourselves."
COMMENTS (3)
Comments are moderated and generally will be posted if they are on-topic and not abusive.
For more information, please see our Comments FAQ