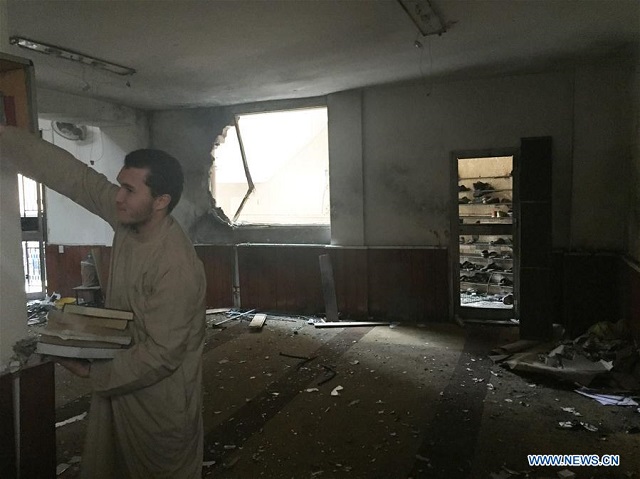 ---
TRIPOLI, LIBYA: Two people were killed and 143 others, including children, were injured on Friday when an explosion hit a mosque during Friday prayers in the eastern Libyan city of Benghazi, military and medical sources said.

"An explosion hit inside the Sa'ad Bin-Abada mosque in Majuri district of Benghazi during Friday prayers," said Col. Milud Zwai, spokesman for the eastern-based army's special forces.

Woman, daughter die in Balochistan hand grenade explosion

"The explosion was carried out by explosives bags placed inside the mosque," Zwai added, noting that "the bombing was carried out remotely, according to preliminary investigations."

"The hospital received one body and 87 injured people with varying degrees of severity," said Fadia Al-Barghathi, the information officer of Al-Jalaa Hospital in Benghazi.

Al-Barghathi had earlier said that one person was killed and 55 injured.

Abdalkarim Al-Gbaili, director of Benghazi Medical Center, told Xinhua that the center received 56 injured people, including 12 children. He confirmed that the center did not receive any dead bodies.

The Central Security Chamber of Benghazi, which is formed of army and police forces, confirmed that the bombing killed a second person.

The Head of the Chamber General Wanis Bokhmada, instructed all mosques in Benghazi to "install surveillance cameras within two weeks."

One killed, eight injured in Panjgur roadside explosion

The city of Benghazi, controlled by the army after defeating terrorist groups later in 2017, is witnessing an escalation of bombings, particularly on mosques.

Twin car bomb attacks hit a mosque in Benghazi's Salmani district two week ago as the worshipers exited the mosque after the night prayer, killing 34 people and injuring more than 100 others, mostly civilians.

Libya has been suffering insecurity and chaos since the uprising that toppled former leader Muammar Gaddafi's regime in 2011. The country is plagued with unrest and political division.