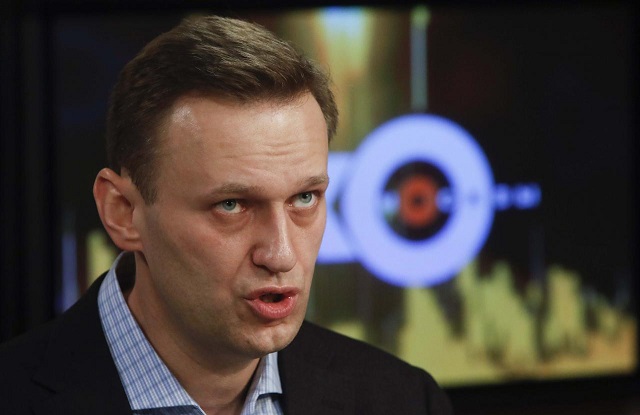 ---
MOSCOW: A video published online by Kremlin critic Alexei Navalny alleging that an influential Russian deputy prime minister enjoyed lavish hospitality from a billionaire tycoon went viral on Friday, receiving more than 2 million views.

The video includes footage that Navalny said was shot by a woman who has written a book about seducing oligarchs.

Russian opposition takes to streets, calls for election boycott

Navalny, who has been barred from running against President Vladimir Putin in next month's election, said the video appears to show Putin's former top foreign policy adviser Sergei Prikhodko vacationing on the yacht of 50-year-old Oleg Deripaska, an aluminium magnate.

Both Deripaska and Prikhodko, who rarely makes comments to the media, denied the allegations.

"The political loser has once again tried to organise a provocation," Prikhodko said in a statement to business newspaper RBC.

He said he should respond to the accusations "like a man, but we will stay within the legal framework".

A spokesman for Deripaska's Basic Element industrial group said the allegations "have no relation to reality".

"We would like to warn media from spreading these false accusations," the spokesman said in a statement.

Deripaska's Instagram account said: "I will defend my honour and dignity in court."

Video footage apparently shows the magnate, who controls Russian aluminium giant Rusal, and a man who appears to be Prikhodko on a yacht together, looking relaxed.

The two men at one point are heard talking about strained US-Russia relations.

Navalny claims Prikhodko and Deripaska sailed together on Deripaska's luxury yacht off the coast of Norway in 2016.

Prikhodko now serves as deputy prime minister and government chief of staff. He was an aide to Boris Yeltsin and then to Putin until 2012. The 61-year-old is considered to be one of the main architects of Russia's foreign policy.

Deripaska was once an associate of US President Donald Trump's former campaign director Paul Manafort.

Prikhodko called Deripaska "my friend" and added that he did not know Manafort personally, according to RBC.

He said he would not sue Navalny. "It's enough that other people will do it," he added.

Navalny said that by using photos that the woman posted on her Instagram feed and other open sources he had identified the vessel as Deripaska's yacht the Elden.

The Kremlin critic also accused the state official of owning luxurious apartments in Moscow and a mansion outside the Russian capital.

The video, which was posted on YouTube on Thursday, had been viewed more than 2 million times by Friday evening.

Russia's Putin calls for Web activities of some firms to be monitored

The names from Navalny's investigation were among the top trending hashtags on Russian Twitter, along with #Olympics, as the Winter Olympic Games kicked off in Pyeongchang, South Korea.

The woman who Navalny said filmed the video, Nastya Rybka, describes herself as a model and has penned a book on how to seduce billionaires.

She has more than 60,000 followers on Instagram where she has posted scantily-clad or naked snaps of herself and a video of herself having sex with a man.

When asked if he could comment on Navalny's investigation, Putin's spokesman Dmitry Peskov told journalists: "No, I could not and would not want to."


COMMENTS
Comments are moderated and generally will be posted if they are on-topic and not abusive.
For more information, please see our Comments FAQ