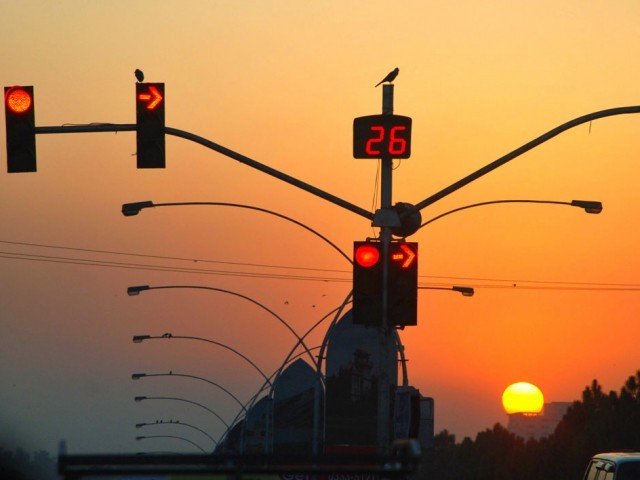 ---
RAWALPINDI: The citizens of the garrison city have demanded the authorities concerned to pay heed and undertake urgent repairs of faulty traffic signals as malfunction of traffic lights at major intersections in the city not only causes traffic jams but also endangers public safety as accidents are likely to occur.

Arif Altaf, a motorist said, he had spotted a number of traffic signals in his area which were out of order. "Faulty signals are causing so much confusion and congestions at intersections. I have been stranded several times due to traffic issues which puts me in an awkward position with my boss due to late coming," he added.

Another motorist, Mohammad Abdullah, who is a resident of Marrir Hassan said many traffic signals on the main Murree Road and the link roads have been out of order for a long time. It is very annoying because of the traffic congestions on the one hand and being late to reach one's destination on the other, he added.

He said, the departments concerned are giving no attention towards the problem which is aggravating the city traffic situation further.

The road users have also urged the authorities to take solid steps to avoid traffic jams on city roads.

Several ambulances are also seen stuck in the long traffic queues on roads.

Public transport commuters are the worst sufferers as traffic wardens are also found absent from their duty points and others make half-hearted efforts to regulate traffic.

The citizens have called on the authorities to outline a comprehensive plan to solve traffic congestions especially at Saidpur road, Murree road, Asghar Mall road, Fifth and Sixth roads, Marrir Chowk, Pirwadhai Mor area at GT Road and Raja Bazaar.

The residents said there are a number of schools, colleges, hospitals and other important workplaces in the Commercial Market, Fifth Road, Sixth Road and adjoining areas due to which there is a heavy rush of traffic influx in the area which is not properly being regulated compelling the motorists to move at a snail's pace.

When contacted, an Rawalpindi Development Authority (RDA) official said that the authority needs funds for the maintenance of traffic signals in the city, adding, there is no fresh survey of out of order traffic signals available to RDA so that it could demand required funds from the government.

A Traffic Police official informed that the City Traffic Police (CTP) has deployed its wardens on all the roads to regulate traffic load but, maintenance of the traffic signal is responsibility of RDA. He said CTP has made all possible arrangements in the city to ensure smooth traffic flow.

Published in The Express Tribune, February 10th, 2018.
COMMENTS
Comments are moderated and generally will be posted if they are on-topic and not abusive.
For more information, please see our Comments FAQ