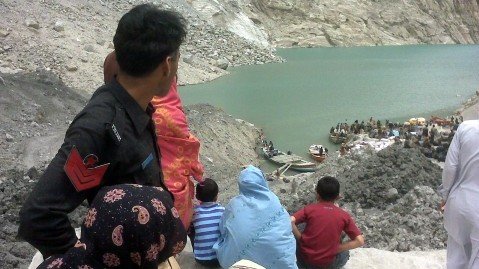 ---
The Chairman of the National Disaster Management Authority (NDMA), Retired Lt General Nadeem Ahmed said water outflow from the Hunza lake is expected to spill over on May 28.




According to the National Disaster Management Authority,  2050 cusecs water is entering the lake due to melting glaciers while the water release is 197 cusecs.




Landslides are also expected as the water level in the lake has increased to 3.1 feet in the last 24 hours.


The Hunza Deputy Commissioner Zafar Waqar Taj said that lake water had inundated low-lying areas and the rate of increase in the lake's water level had been steady. People from the 32 flooded villages have been evacuated and are not allowed to go back. All downstream villages have been evacuated.

The government of Khyber-Pukhtunkhwa province has been asked by Pakistan's National Disaster Management Authority to prepare for a possible emergency in the districts of Shangla, Mansehra, Kala Dhaka and Kohistan, downstream from the Hunza Nagar district.

The region is under threat from flooding from a lake that formed after a landslide. Villages in Hunza-Nagar are reported to have been flooded.  According to the FOCUS Humanitarian Assistance NGO operating in the area, villages in the Kohistan district are under threat, with some 30,000 to 50,000 people possibly vulnerable. The district has a scattered population of about 500,000, according to official figures.

Meanwhile, a medical team sent by the Punjab government is also arriving in Hunza today, while air service stands operational to provide relief goods and food to the affectees.
COMMENTS (15)
Comments are moderated and generally will be posted if they are on-topic and not abusive.
For more information, please see our Comments FAQ