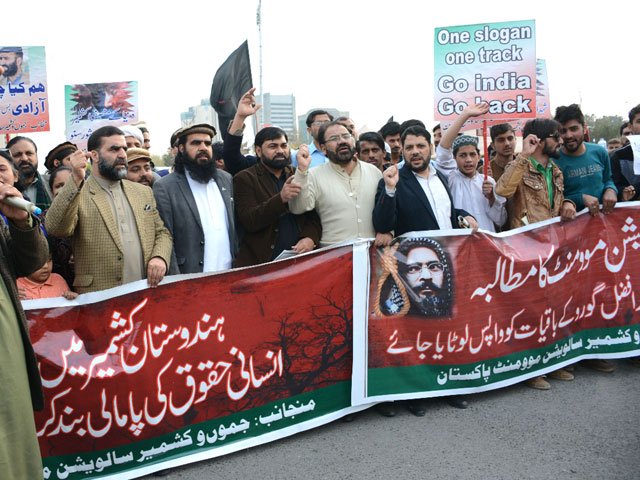 ---
MUZAFFARABAD: The people of Azad Jammu and Kashmir (AJK) took to streets on Friday to observe the fifth death anniversary of Afzal Guru, the Kashmiri separatist leader, who was hanged in 2013 for his alleged role in a deadly attack on Indian parliament.

Rallies were organised in AJK, held Kashmir and Pakistan, as protesters raised slogans for Guru.

In Muzaffarabad, protesters marched from Central Press Club (CPC) to Burhan Wani chowk.

Addressing those in attendance, education minister Barrister Iftikhar Gilani said that hanging the man on circumstantial evidence was a stain on the face of Indian judiciary and democracy.

"Guru is now the symbol of resistance in Indian-occupied Kashmir," he remarked.

Plight of Kashmiri people must not fall on deaf ears: Abdul Qayyum

He assured that the people of AJK and Pakistan fully support Kashmiris in commemorating Guru.

Gilani went on to add that the 'secret hanging' had exposed the flawed judicial system of India, saying it had no right to call itself the largest democracy on the planet.

He urged human rights organisations to investigate, what he called, Guru's judicial murder.

Another rally was organised by Jammu and Kashmir Salvation Movement (JKSM) took out a rally at National Press Club Islamabad to pay homage to Afzal Guru.

JKSM vice chairman Altaf Bhat said Guru was not given fair trail and was secretly hanged in New Delhi to break the will of Kashmiris, fighting for their right of self-determination since for the past more than seven decades.

Afzal Guru's execution condemned

Meanwhile, Kashmiri leader Yasin Malik's wife Mishal Malik has urged the international community to play their role in handing over Guru's remains to his heirs.

She also called upon the world powers, human rights organisations and International Red Cross and Red Crescent Movement to take notice of the separatist's secret hanging.

Kashmiris, she stressed, have decided to attain their right of self determination and no one can stop them from achieving this objective.

"An innocent Kashmiri was arrested on fake charges and was hanged on circumstantial evidences to satisfy the collective consciences of India," Mishal said. "This has not only exposed Indian judicial system, but also the flaws in its democratic system."