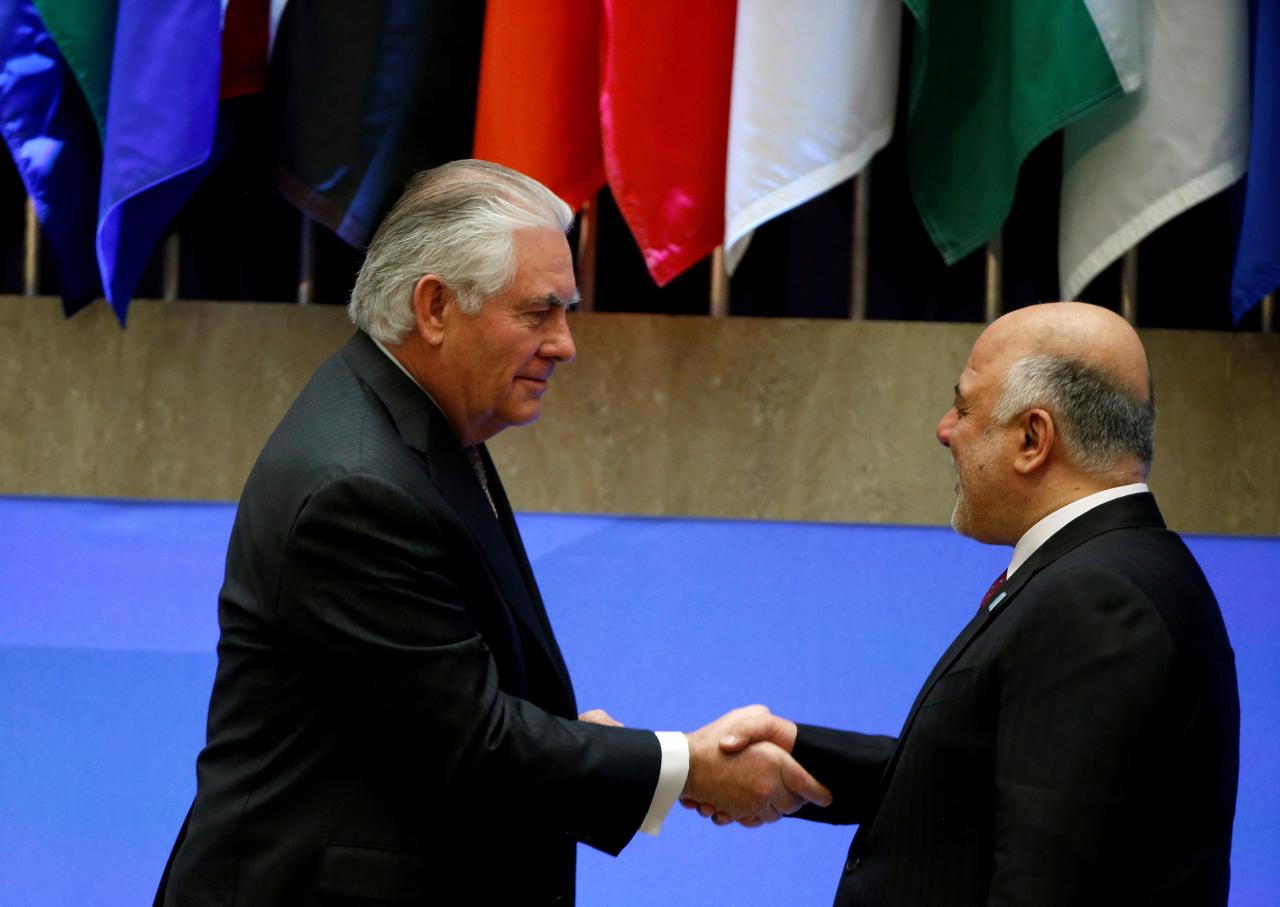 ---
WASHINGTON DC: The United States does not plan to contribute any money at a conference in Kuwait next week to fund Iraq's reconstruction drive after the war against Islamic State forces, US and Western officials said, a move critics say could deal a new blow to American standing internationally.

"We are not planning to announce anything," a US official said on Thursday regarding financial assistance at the conference, which US Secretary of State Rex Tillerson will attend.

The official, however, said Tillerson could still decide closer to the time to announce a contribution.

Washington instead is encouraging private-sector investment and counting on Iraq's Gulf neighbors, particularly Sunni regional heavyweight Saudi Arabia, to pour in money as part of a rapprochement with Baghdad meant to reduce rival Iran's influence in Iraq.

President Donald Trump said during the 2016 US presidential campaign that if elected, "the era of nation-building will be ended."

China says it will make efforts on Syria reconstruction

Iraqi Prime Minister Haider al-Abadi has said his country needs up to $100 billion to fix crumbling infrastructure and cities devastated by the conflict against Islamic State.

A shortage of reconstruction funds could increase the danger of reinvigorating grievances among the minority Iraqi Sunnis against Iraq's Shi'te-led government.

Asked if the US government will be making an announcement of contributions at the conference, State Department spokesperson Heather Nauert said, "I'm not aware of any announcements that we will be making."

"About 2,300 members of the private sector will also be joining ... and talk about ways that they can help facilitate the large-scale reconstruction taking place in Iraq," Nauert added.

Jeremy Konyndyk, who served from 2013 to 2017 as head of the US Agency for International Development's (USAID) Office of US Foreign Disaster Assistance, said that by not contributing to reconstruction, especially in combat-ravaged areas dominated by Sunnis, the Trump administration could help set the stage for a new insurgency.

"We've seen this movie before. There is a very real risk if the US doesn't put money into reconstruction, that having just won the battle, you lose the peace," said Konyndyk, now a senior policy fellow at the Center for Global Development think tank.

US backs Russian investment in Iran-Pakistan gas pipeline


Another US official pointed to the billions of dollars the United States has committed to financing loans and restoring basic services to Iraqi towns and cities in the immediate aftermath of fighting.




"The immediate stabilization needs remain vast, and limited US government resources alone cannot meet these current and pressing needs, let alone consider supporting long-term reconstruction," the US official said, speaking on condition of anonymity.




The official said Washington strongly supports the conference and would "continue to work with the Government of Iraq and the international community to help address the needs of the Iraqi people as they recover and rebuild their country."




Fifteen years after US invasion




The United States, which invaded Iraq in 2003 and toppled the late President Saddam Hussein and more recently led an international coalition fighting Islamic State, has pumped billions of dollars into Iraq.


In January, the United States said it planned to provide $150 million for stabilization operations in 2018 - funds that would go to restoring basic utilities and grants to small businesses - bringing Washington's total contribution to $265.3 million since 2015.

Iran to supply electricity to neighbours


The US government has also provided $1.7 billion in humanitarian assistance for Iraq since 2014, making it the single largest donor to address the Iraqi crisis.




"Absolutely nothing," said a Western official, who requested anonymity because of the sensitivity of the issue, when asked whether Washington would announce any financial contributions at the conference to fund long-term reconstruction projects.




Mdhair Saleh, Abadi's economic advisor, would neither confirm nor deny the lack of a US contribution.




"The question is not about direct financial assistance," Saleh said. "I think US policy is to support private-sector investment in Iraq. As for direct support in the Kuwait conference on the part of the government, I have not heard anything."




"Sinews of a strategy"


James Jeffrey, a former US ambassador to Iraq, said the United States had already "poured billions and billions of dollars into Iraq" for the fight against Islamic State, equipping Iraqi forces and humanitarian aid.

"Only the United States can organise the diplomatic, reconstruction, military and political sinews of a strategy for the international community," Jeffrey told Reuters.

"The fact that we're not putting any money up will weaken our case, and that's unfortunate."

A US official in Baghdad said the American role in the Kuwait conference would be focused on opportunities "for true private-sector investment or public-private partnerships with the Iraqi government."

"What we are trying to do in Kuwait next week is to put together companies that want to look at Iraq ... and possibly also talk about ways to finance projects," added the official, speaking on condition of anonymity.

Ethnic cleansing: Pakistan urges halt to Rohingya massacre

A State Department official said Washington was counting on other countries to step up, adding that more than 100 US companies would be at the event.

Konyndyk, the former USAID official, said business people would want to see the risks of their investments in Iraq mitigated by US government contributions.

"If the US government wants to see private-sector investment go in, they need to put skin in the game," added Konyndyk, saying a contribution also would demonstrate American commitment to reducing Iran's influence.

Iran, by leveraging its ties with Iraq's majority, emerged as the main power broker in Iraq after the United States withdrew its troops in 2011.
COMMENTS (2)
Comments are moderated and generally will be posted if they are on-topic and not abusive.
For more information, please see our Comments FAQ