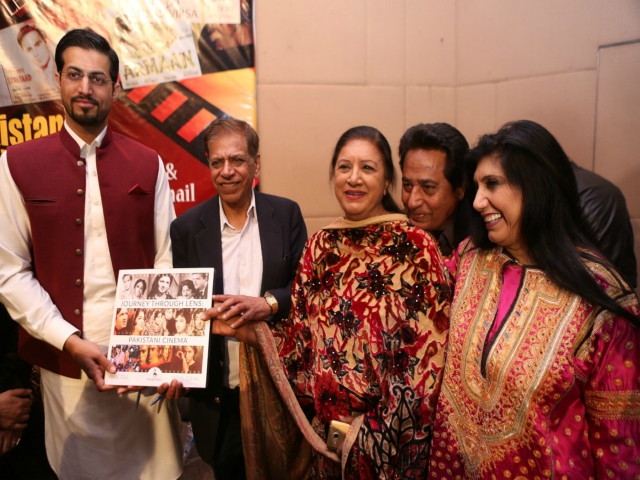 ---
LAHORE: The National Institute of Folk and Traditional Heritage (Lok Virsa) launched an exclusive book on Pakistani cinematic history titled Journey Through Lens at Alhamra Arts Council on February 7. Written by Aijaz Gull and Jamal Sohail, the book focuses on creation and development of the film industry in Pakistan which is an essential part of our national cultural heritage. It also tracks the history of cinema in the subcontinent from 1906 when the first film shots were screened in a Mumbai hotel.




Executive Director Dr Fouzia Saeed welcomed the guests at the inauguration ceremony. Leading personalities from different walks of life including Saleema Hashmi, Syed Noor, Bahar Begum, Naghma Begum and trade expert Nadeem Mandviwala attended the ceremony and shared their own experiences of the industry.




While talking about prospects of the book and significance of the film, Saeed said that films are not only the fundamental source of entertainment but also an integral part of society's folk traditions. It reflects the social norms, values, music and poetry.

Adding further, Saeed stated, "Lok Virsa has been very successfully running Mandwa film club, in which every week classic films are screened – one from Pakistan and the other an international one. It's an effort to project the vibrant cinematic traditions and journey of Pakistan's film Industry."

Authors Gull and Sohail said that the book works both as a reference and a text book by providing extensive information on films. It does not only cater to the needs of film historians and critics but is also a valuable source for media and film students as well as enthusiasts. As there has not been much written on the film industry in Pakistan, this book is a modest attempt to take the readers on a joyful ride. It's bound to make you laugh, feel romantic and might also make your eyes water.




Journey Through Lens, not only provides cinematic history but also highlights the golden era which existed in the 1950s. Turning the pages of the book, the reader will take a walk down memory lane - sometimes in nostalgic black and white, while the other in glamorous coloured images.

Lollywood's showman Noor congratulated Lok Virsa on preserving the memories of the industry. Taken over by nostalgia while speaking of his own struggle in the industry, Noor praised director S Suleman for helping him in his career. He added that it's very unfortunate that the first few classic films were not preserved. Noor also mentioned that those films inspired many others to do produce quality content.




Mandviwala emphasised that film-makers should not ignore the power of Punjabi cinema but instead explore original enriched cultural stories. He also explained that Urdu films have survived in Pakistan, however, efforts to revive Punjabi cinema went to vain.

Hashmi and Begum also congratulated the Lok Virsa on arranging the beautiful evening and working magnificently to preserve Pakistani arts, literature and culture.

Have something to add to the story? Share in the comments below.
COMMENTS
Comments are moderated and generally will be posted if they are on-topic and not abusive.
For more information, please see our Comments FAQ