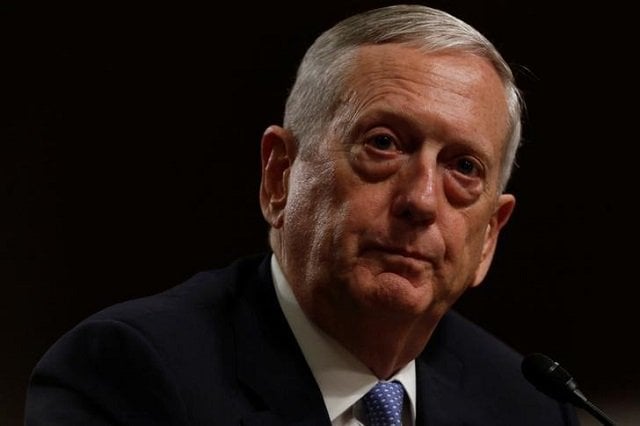 ---
WASHINGTON DC: The US plan to deploy new low-yield nuclear weapons is aimed at convincing Russia to respect existing agreements on limiting the weapons, Secretary of Defense James Mattis said Tuesday.

Mattis told a hearing in Congress that Moscow is violating the Intermediate Nuclear Forces Treaty and Washington wants to pressure it to get back in line.

Russia supports Pakistan's bid to join elite nuclear trading club

"As you know, we have an ongoing issue with Russia's violation of the INF. I want to make certain that our negotiators have something to negotiate with, that we want Russia back into compliance," he told the House Armed Services Committee.

"We are going to stay inside the INF-compliant requirements but we are going to do research and development of an alternative weapon that should put Russia in a position to see the value to returning to being INF-compliant," he said.

For several months Washington has accused Russia of developing a new intermediate-range, ground-launched cruise missile that violates the treaty signed by Ronald Reagan and Mikhail Gorbachev and implemented in 1988.

Moscow denies breaking the agreement.

Last week the Pentagon released an updated nuclear strategy, the Nuclear Posture Review, that details how the US plans to face threats from North Korea, Iran and China, but mainly Russia.

The new stance envisages a new submarine-launched ballistic missile armed with a low-yield mini-nuke, and a new nuclear-capable cruise missile.

NA speaker urges closer cooperation with Russia

The ballistic missile would not violate the INF, but the cruise missile, if developed over the next seven to 10 years, would.

But Washington could hold off on it if Moscow falls back into compliance with the 30-year-old INF, according to Pentagon deputy director for strategic stability Greg Weaver.
COMMENTS
Comments are moderated and generally will be posted if they are on-topic and not abusive.
For more information, please see our Comments FAQ