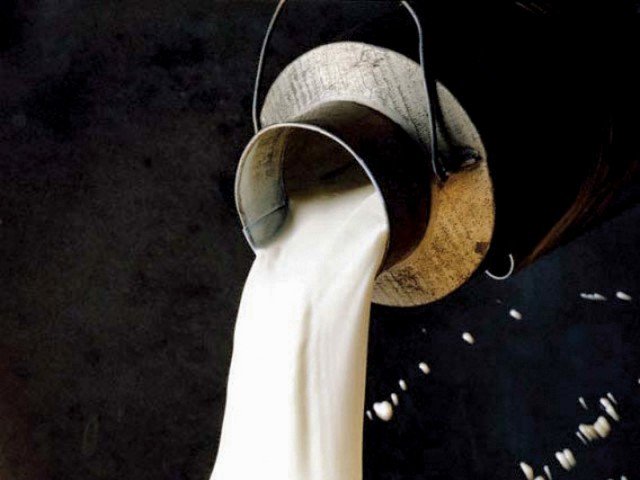 ---
ISLAMABAD: The Senate Standing Committee on Interior took notice on Tuesday of sale of adulterated milk and dead animals' meat in Islamabad and directed the officials concerned to adopt prompt measures to get rid of this crime.

Chairing a meeting, Senator Rehman Malik said a report has been published in a section of press on the issue and those involved in this crime should be taken to task.

A report was published in The Express Tribune and Daily Express on Tuesday about the sale of adulterated milk and meat of dead animals in Rawalpindi and Islamabad.

Islamabad Chief Commissioner Zulfiqar Haider informed the meeting that special teams have been formed to conduct crackdown against the elements involved in sale of adulterated milk and sub-standard or dead animals' meat in Islamabad Capital Territory (ICT).

Among others, the meeting was attended by senators Shahi Syed, Muhammad Javed Abbasi, Muhammad Ali Saif, Karim Ahmed Khawaja, Sehar Kamran, Rubina Khalid and Sirajul Haq, besides officials of ministry of interior and ministry of law and justice.

The committee was informed that Islamabad Capital Territory Administration (ICTA), as part of its steps to check sub-standard milk and other food items in the capital, has sealed many premises and sent 241 challans to courts.

The special ICTA teams during raids also took 568 samples of different food items and checked 122 shops.

Out of total 108,810 litres milk checked, around 74,610 litres was found substandard and destroyed on spot.

Total 32 complaints were submitted in court of law against owners of milk and dairy farms, whereas FIRs were lodged against six owners of milk suppliers in tanks and browsers who were arrested by local police. The sub-standard milk was also destroyed on the spot.

The chief commissioner sought committee's help in legislation so that they can make strict rules to check the crime.

The committee condemned incident of terrorism in Swat. The Committee salutes to jawans of Pakistan army, Rehman Malik said.




Human trafficking

The meeting expressed grief and sorrow over death of 11 Pakistanis in a boat accident over coast of Libyan. Taking notice, he termed the incident as very sad. "We cannot remain silent on death of Pakistanis," Malik said and added that the committee should be briefed by interior ministry about the steps being taken to curb human trafficking.

Strict action should be taken against the human traffickers, Rehman Malik said.

The Committee took a very serious notice of the illegal immigration being carried out by human smugglers and expressed sorrows over the incident of boat sinking in which 16 Pakistanis drowned off the coast of Libya early on Friday.

Prayers were prayed for those who lost their lives in the sad incident of boat sinking and Senator Rehman Malik directed the Ministry of Interior and Ministry of Overseas Pakistanis to brief the committee on it in next meeting. He asked the Ministry of Interior to apprise the committee as to what actions so far have been taken against human smugglers involved in human trafficking.

He also called upon the government to move an amendment in the law in Immigration Ordinance of 1979 immediately to ensure stringent punishment to human smugglers and directed the Ministry of interior to initiate a severe crackdown against them countrywide.

Human trafficking is a condemnable crime in which not only precious lives are being lost but also bringing a bad name to the country worldwide, he added

Money lenders' bill

The Committee also considered and discussed "The Islamabad Capital Territory (Prohibition of Interest on Private Loan) 2018 moved by Senator Sirajul Haq and was referred to Council of Islamic Ideology for input and was directed the Council of Islamic Ideology chairman CII should be present in the next meeting.

Money lenders are known to prey upon people in distress and give them loans on exorbitant interest rates sometimes exceeding 120% per year.

Jamaat Islami senator tabled the bill to end the scourge at least in Islamabad territory.

According to the bill no money lender, either individually or in group, shall lend money for any purpose or advance loan to any person for the purpose of receiving interest thereon, or shall carry on an interest based transaction in the ICT.

Whoever contravenes the provisions shall be punished with imprisonment of three to 10 years.

The loan sharks known for their strong arms tactics for recoveries will face strict consequences for roughing up any borrower.

"Whoever molests any borrower with intention to force such borrower or debtor to pay back any loan or interest shall be punished with imprisonment may extend to five years and shall also be liable to fine up to Rs500,000.

Published in The Express Tribune, February 7th, 2018. 
COMMENTS
Comments are moderated and generally will be posted if they are on-topic and not abusive.
For more information, please see our Comments FAQ